It might be hard to believe that it's easy to upload anything to Facebook but audio tracks.
Audio content creators have struggled with sharing their content on the social platform, no matter it is a podcast, a song or just a recording that you want the world to hear.
Uploading audio to Facebook should not be this difficult. With a user base of more than 2.9 billion users (Yea, almost 40% of the global population is on Facebook!), Facebook is a great platform for or everyone to share and engage with the world, and audio creators shouldn't be an exception.
As a content creator, it is a MUST to build a presence on Facebook.
There is nowhere to upload audio to Facebook... 🤔
Currently, Facebook isn't very audio-friendly. There has a simple way to upload audio to Facebook. You can freely upload images, videos, gifs, and more. There are even cool features for Q&A, life events, check-ins, etc, but there's nothing for audio uploads.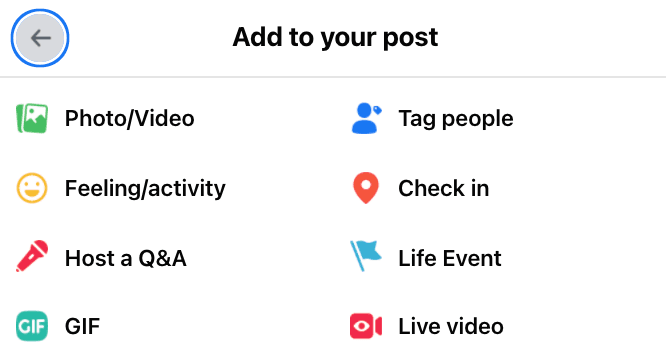 So where does that leave us, audio content creators?
---
Jupitrr AI Video Maker
Automatically generate captions and stock footage for your raw footage in just a few clicks.
Try it for free
What's the solution? 💡
In order to upload audio to Facebook, there are two options:
Converting your audio into a video [Maxmise engagement]
Uploading your audio file to a sharing platform [Maxmise convenience]
1. Converting your audio into a video (or as we call it, an audiogram)
In order to maximize engagement and viewership for your audio content, we highly recommend converting your audio into an audiogram to upload onto Facebook.
Facebook has always been a platform that favors video over text and visuals over audio. With videos muted by default, you need an eye-catching video in order for your audience to notice your content. Also, videos on Facebook auto-play when seen, which means that more of your followers would get a teaser of your content, giving your posts higher viewership.
An audiogram with a dynamic waveform, subtitles, and your profile image is far more eye-catching when compared to a link generated by Google drive.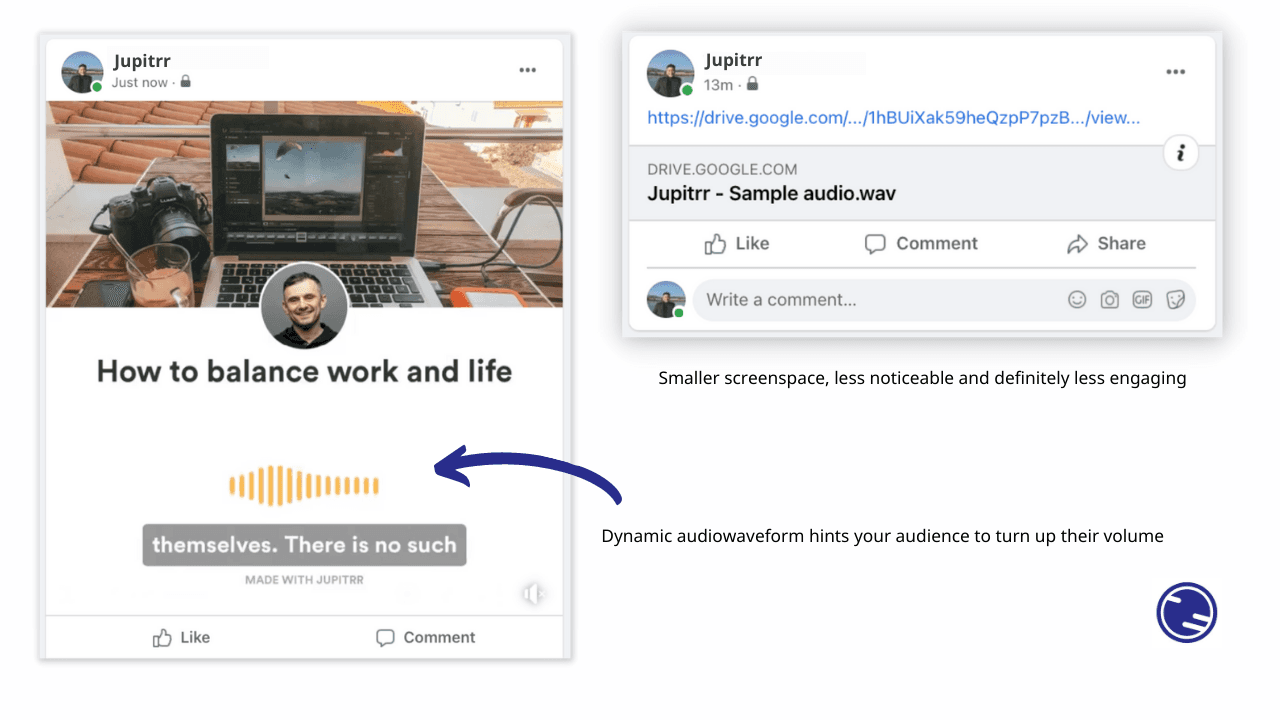 How can I create an audiogram? 🎥
Creating an audiogram is a lot easier than you imagine. Jupitrr has made it almost as easy as uploading it to Google drive. You can create an audiogram from start to finish within a few minutes.
Our online tool, Jupitrr, gives you all the tools you need to create an engaging piece of audio content for Facebook. Jupitrr helps you convert your audio into a shareable video by adding auto-generated subtitles, animated waveform, and stunning images to your already great audio content.
Jupitrr streamlined the entire process into a few clicks. Upload or record an audio and simply customize your audiogram with Jupitrr's tool.‌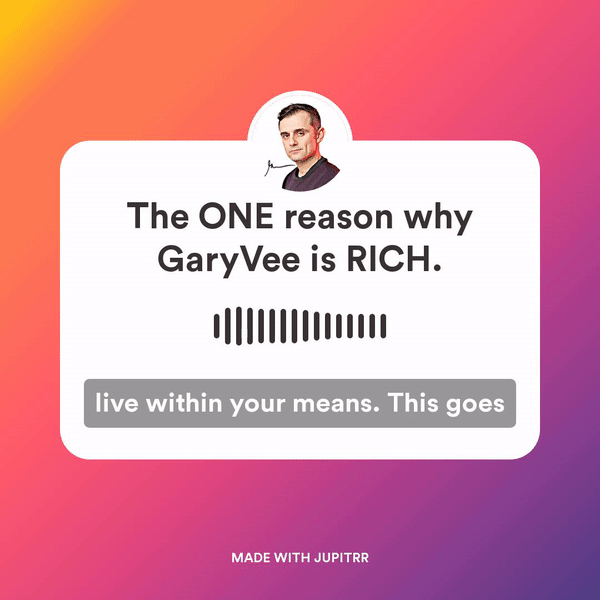 This is an audiogram created through Jupitrr featuring Garyvee. Within a few clicks, you can transform your audio file into an eye-catching audiogram ready to be uploaded on Facebook.
Prefer animated text audiograms for Facebook? Check out our other blogs: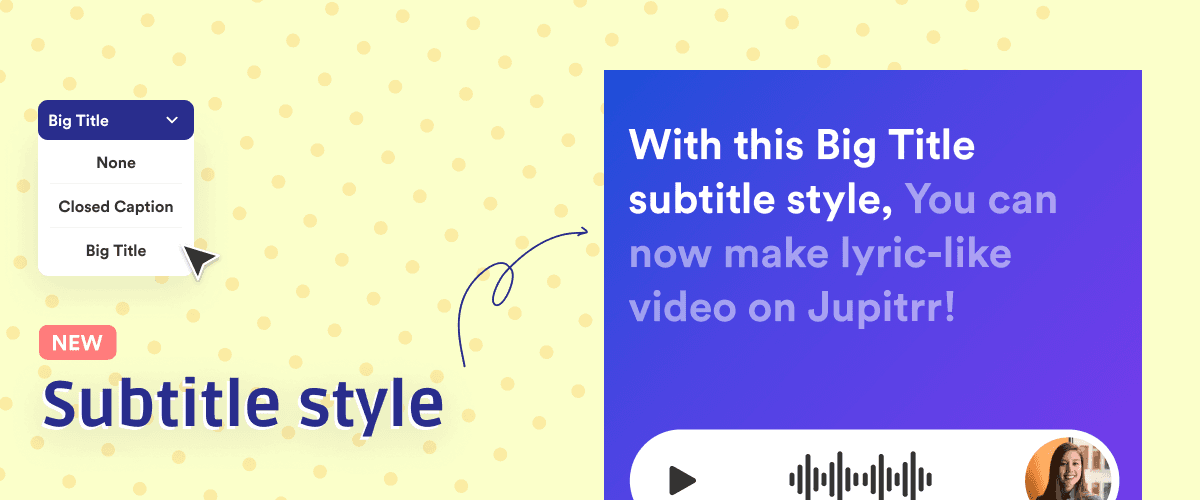 ---
2. Uploading your audio file to a sharing platform
A less preferable way to upload your audio on Facebook is to upload it to a sharing platform and obtain a shareable link, which can then be posted on Facebook.
Some of the most common sharing platforms currently available are Google Drive, Dropbox and SoundCloud. Upload your audio file, get a sharable link, and then you're all set.‌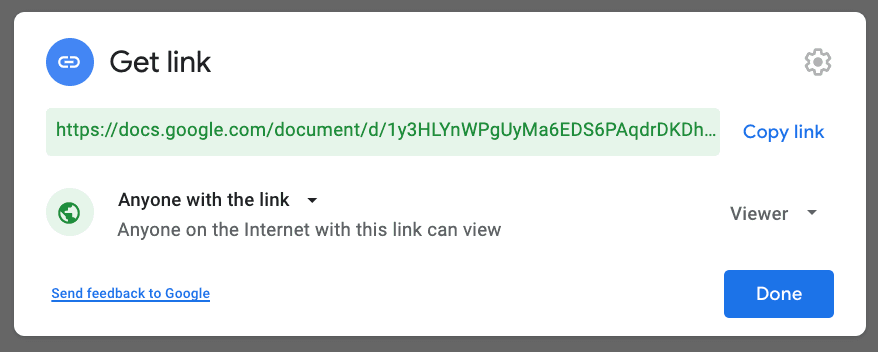 Remember to change your sharing settings to "Anyone with the link can view" to enable your audience to access the audio file.

Uploading it on SoundCloud, on the other hand, could also be an option. With the ability to add a feature image, customise title and description, it will be able to generate a preview on Facebook when you share the link.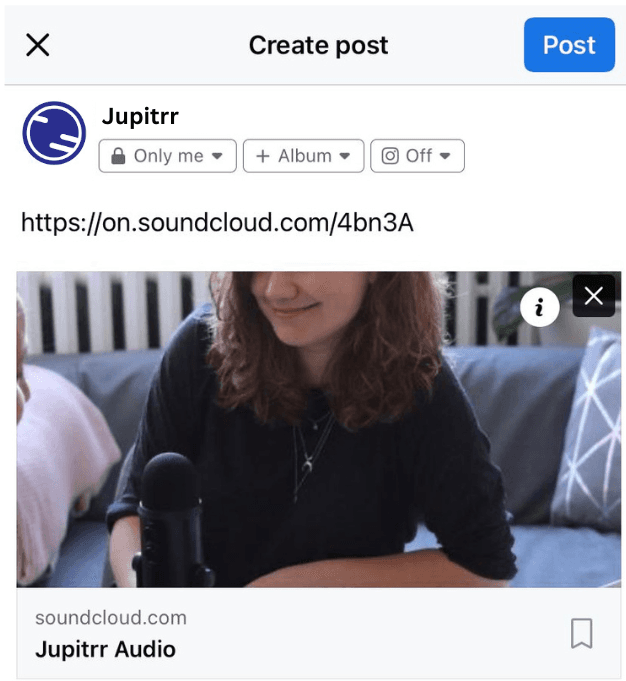 However, you might have to risk having your featured image being weirdly cropped, and it is likely that the visual is not dynamic enough to capture attention.
Facebook is becoming 'video-only' 🚨
Although uploading your audio to a sharing platform is straightforward, it definitely isn't the best way nor the most engaging way to do it.  
In fact, recent Facebook algorithm updates have been designed to prioritise showing videos over other types of content, with short form videos being its main draw, alongside ths success of Tiktok in the last couple of years. In other words, if your content is not in video form, chances are it will have significantly less exposure and will be lost in the sea of updates.
To make sure that your content gets viewership, it is necessary to turn it into a video - and creating an audiogram is the easiest way to do it.
---
Start creating audiograms for Facebook uploads!
It doesn't matter if you lack videography skills or have never worked on graphic design projects, because you don't need any experience to upload audio to Facebook through an audiogram.
In order to maximise your engagement on Facebook, creating a dynamic, eye-catching video from your audio content should be your go to method. With interesting visual and audio content, you can start building a presence on the social platform.
The exciting part is that once you have created an audiogram for your audio, you can upload on other social media platforms as well, including Instagram and YouTube (Learn how to upload audio to Instagram).  
---
What are you waiting for? ⏳
Hundreds of audio creators are already using Jupitrr to upload their audio to Facebook. Don't miss out and try it out today!
Create your first audiogram
Wondering how to create what's the best way to create audio content for Facebook?  Check out our guide on audiograms.