Are you a podcaster who is about to reach out for collaboration opportunities and needs to make a Podcast Media Kit?
You're in the right place.
This comprehensive guide has a step-by-step approach with practical examples to create a professional podcast media kit.
We wish to make podcasters' lives easier by sharing the secret recipe of Podcast Media Kit creation with you and making your reach out more successful.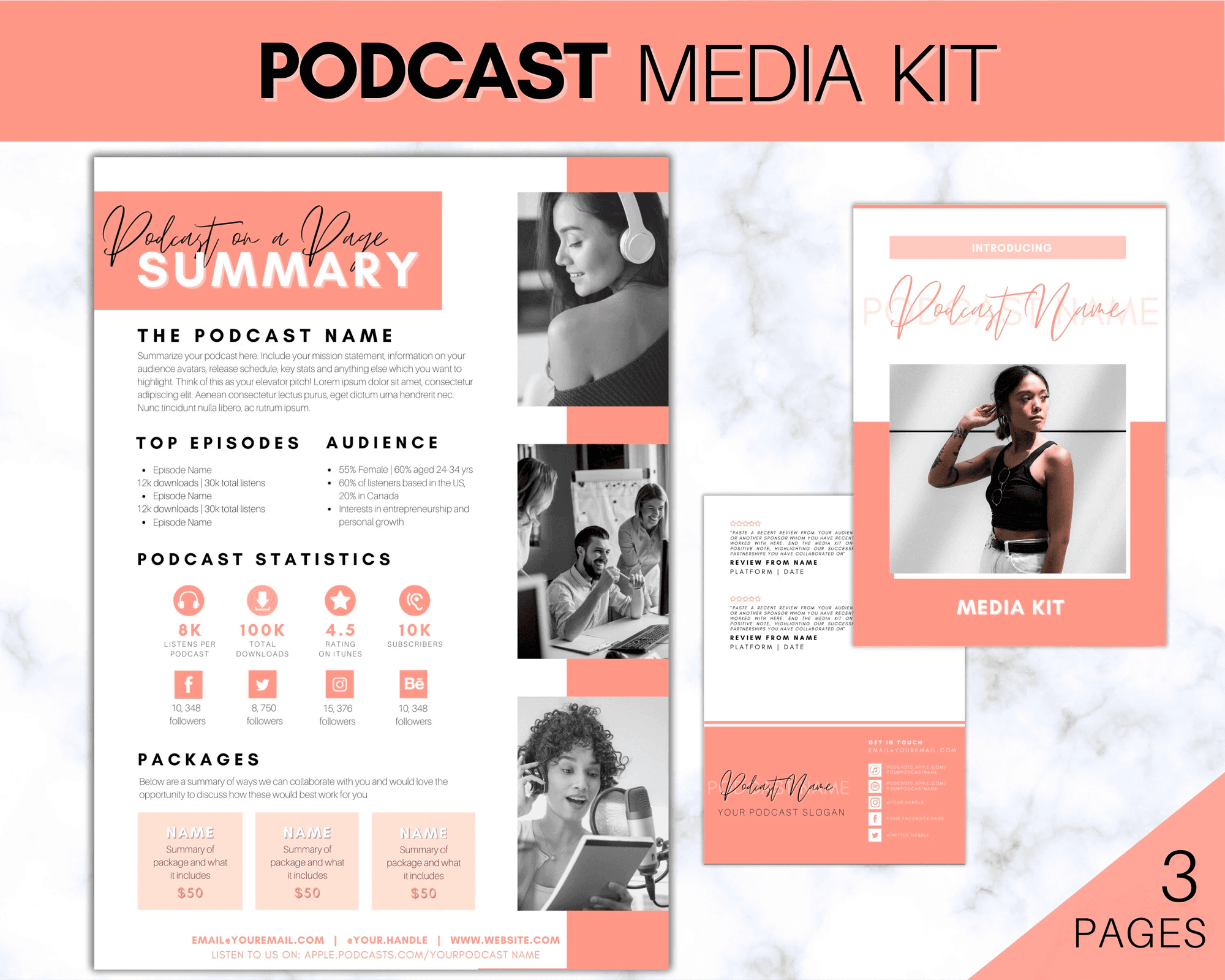 What is a Podcast Media Kit?
A podcast media kit is a comprehensive and organized way to present the information about your podcast to potential sponsors, media outlets, and guests.
Its primary objectives are to create a brand image for your podcast and to provide all the necessary information to the audience in an organized way.
It is also a bite-sized material to attract the receiver for wanting to know more about you and your podcast work.
When Do You Need a Podcast Media Kit?
You will need a podcast media kit when you are looking to
reach out to the media: they would especially wish to know about your background story, past achievements, and whatever that is news-worthy
get sponsorships: sponsors are typically aware of your brand / market positioning, reputation (any apparent negative news), and meaningful metrics (e.g podcast completion rate and listenership)  
collaborate with guests: it is always a huge bonus if you could share a holistic view of your work to potential guests (well, some care about practical stuff like metrics, while some care about whether your vibe matches them etc.)
A podcast media kit is an essential tool that you can use to help you promote your podcast and make it appealing to your target audience.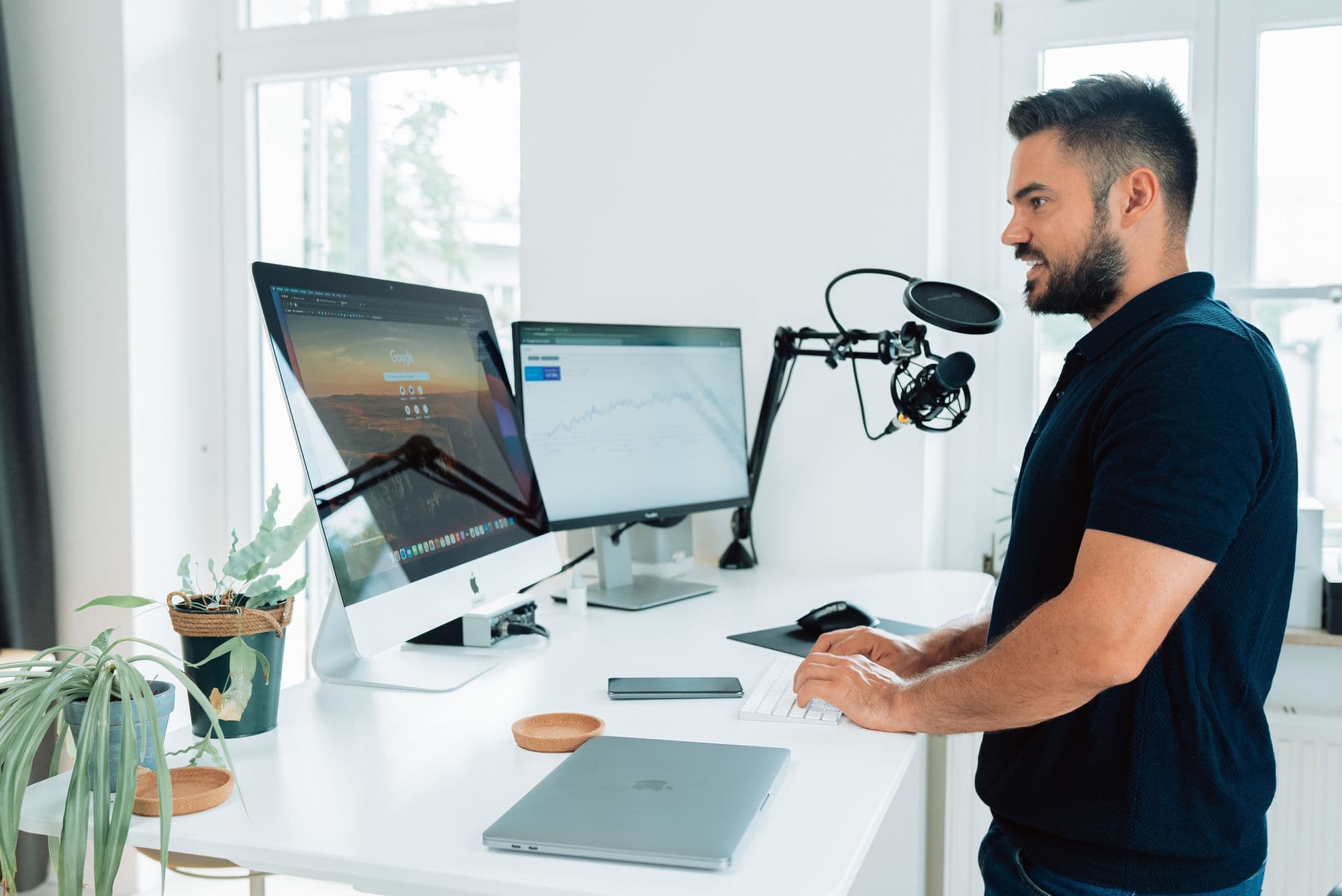 6 Items to Include in Your Podcast Media Kit
Your Bio
Include all the basics (i.e experience and skills). One big tip is to include some interesting story that makes you special (e.g a special reason you started podcasting? Another contrasting identity you have in parallel?)
Background of Podcast
A brief history of your podcast, including when it was started and why. A timeline could be a great visual! You should also mention your target audience and the forecast you have set for your podcast.
30-second Demo
Be visual. Be direct. Nothing is better than a 30-second demo. Don't use video editing software though. Tools such as Jupitrr help you make one in just a few clicks. Showcase the content and style of your podcast and give potential collaborators a taste of it.
Testimonials
Trust and reputation are super important. This section should include positive reviews and testimonials from your listeners. Build an image of credibility and establish trust with potential collaborators.
Core Metrics & Milestones
This section should include important metrics and milestones such as downloads, listens, completion rate and social engagement. Trust me, quantifying your value reduces a lot of unnecessary back and forth.
Press Coverage & Awards
If you have any press coverage or any awards you have won, don't be shy. This section is meant to give you a chance to brag once in a while.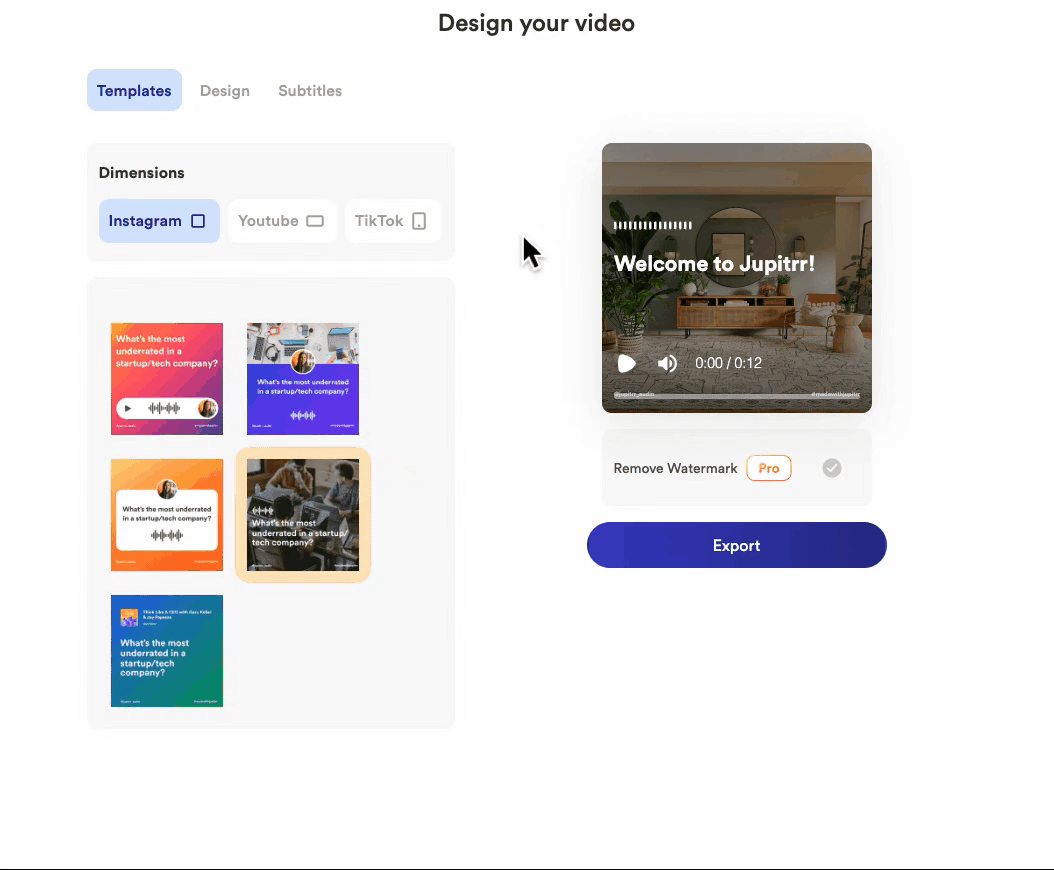 Additional / Optional Items for Podcast Media Kit
In addition to these must-have items, there are different case-specific items you have to include:
Advertising package plan
This is essential to potential sponsors. They have to know the price you are aiming to earn doing advertisements for them.
Podcaster Outreach Template (DM / Email)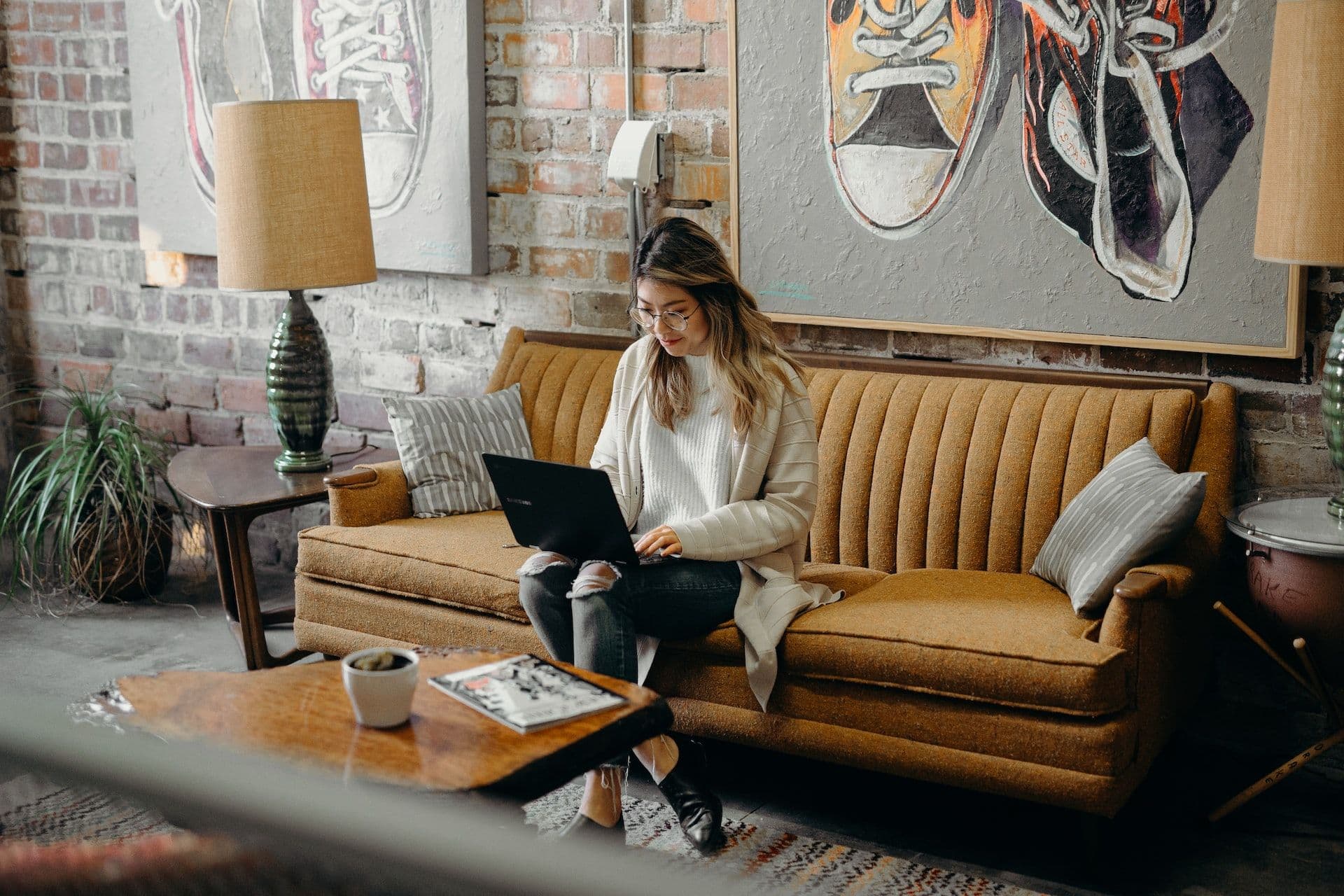 Hi [First name of receiver],
I came across [your company / social media account] and I really like [thing you like about them]. I wanted to introduce myself and my podcast, [Podcast Name]. Our podcast [provides an overview of what your podcast is about].
I would love the opportunity to [collaboration idea].
Our podcast has [provide a metric that demonstrates the reach of your podcast, such as the number of downloads, listens, etc.].
Please let me know if you are interested to explore the idea more together. I'll be happy to share more about us if you are interested.
Thank you and have a great week.
Best regards,
[Your Name]
---
**You may realize I did not put the Podcast Media Kit in the message. This is because it might sound too 'salesy' or forceful if you stuff the collaborator with too much information. Keep it light and casual.
---
Most Common Mistakes of Podcast Media Kit
Podcast demo missing: Podcasters are not writers. Your audience will be much more appealed to your audio content than your words. Making a video demo would be the best idea.
Too much noise/not to the point: The biggest mistake people make with their podcast media kit is spending too many pages to explain the technicals. Your media kit should be easy to understand even for your 9-year-old son.
Lack customization to the audience: The more important your audience is, the more you should make sure you customize your podcast media kit to them and include information that is important specifically to them.
Design and Formatting
Use Canva to Design: Forget about Photoshop. Canva saves you time and offers beautiful decks. It offers a wide range of templates and design elements that you can use to create a professional-looking podcast media kit.
Output with a Drive Link: Once you have finalized your design, save it to Google Drive and share with a link. You could control easily control and update content with it. PDF is the 2nd choice because downloading files from strangers often makes people reluctant, and they occupiy disk space.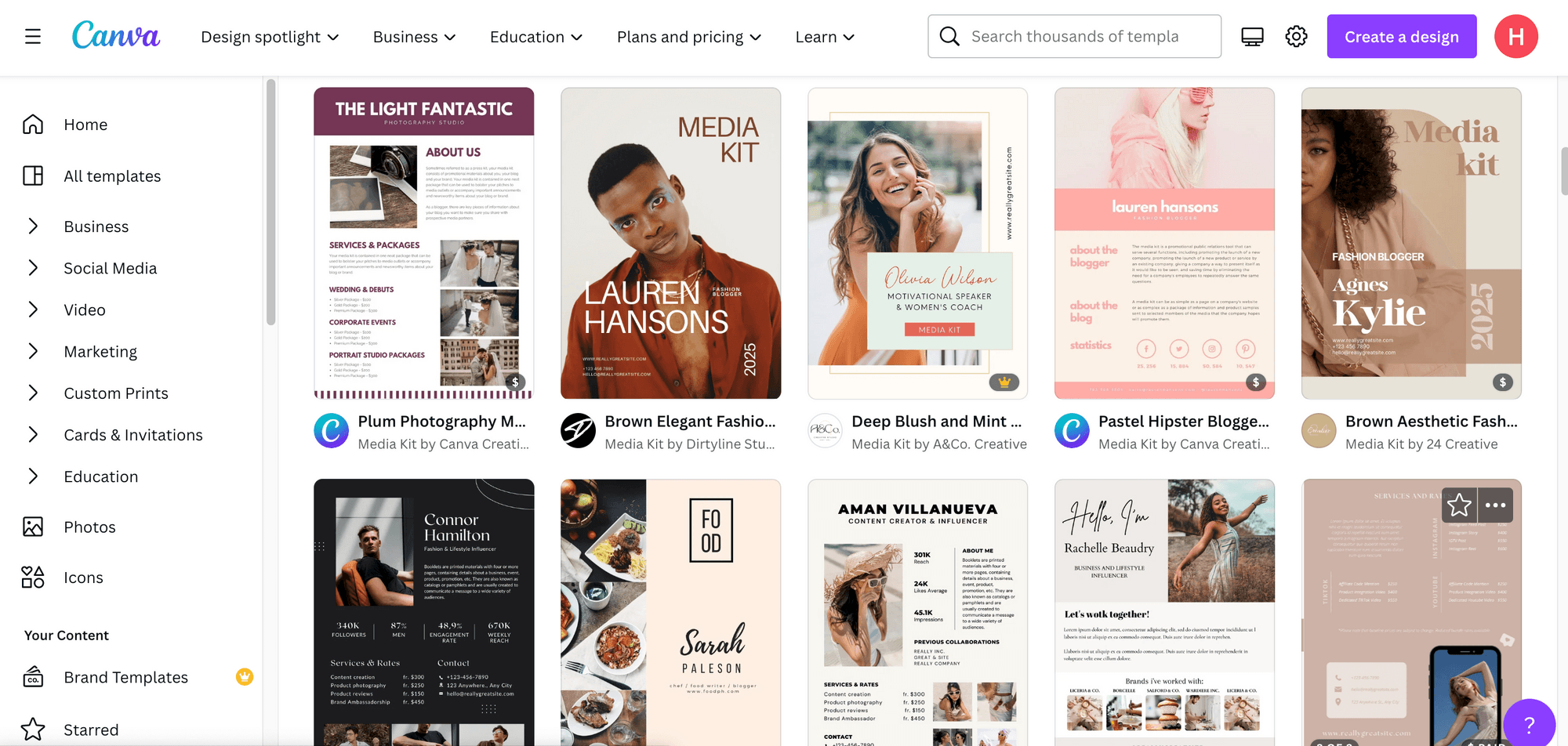 Anyway, just show your best!
In a nutshell, podcast media kits are an essential tool for promoting your podcast and typically useful for reaching out to potential sponsors, media outlets, and guests / collaborators. Be visual and use tools such as Canva and Jupitrr to save your time and get the best quality visuals.
Last by not least, just show your best, relax and you'll be fine!
---
Jupitrr - Turn your audio into shareable videos
Audio creators from 30+ countries are already using Jupitrr to upload their audio to social media. Don't miss out and try it out today!
Try creating your own audiogram now !
Wondering how to create what's the best way to create audio content for Instagram?  Check out our guide on making audiograms.