When we think of starting a podcast, YouTube is usually not the first place that you'd think of publishing it. Podcasts usually are distributed via streaming platforms like Spotify and Apple Music.
Afterall, who goes on a video platform for just audio content?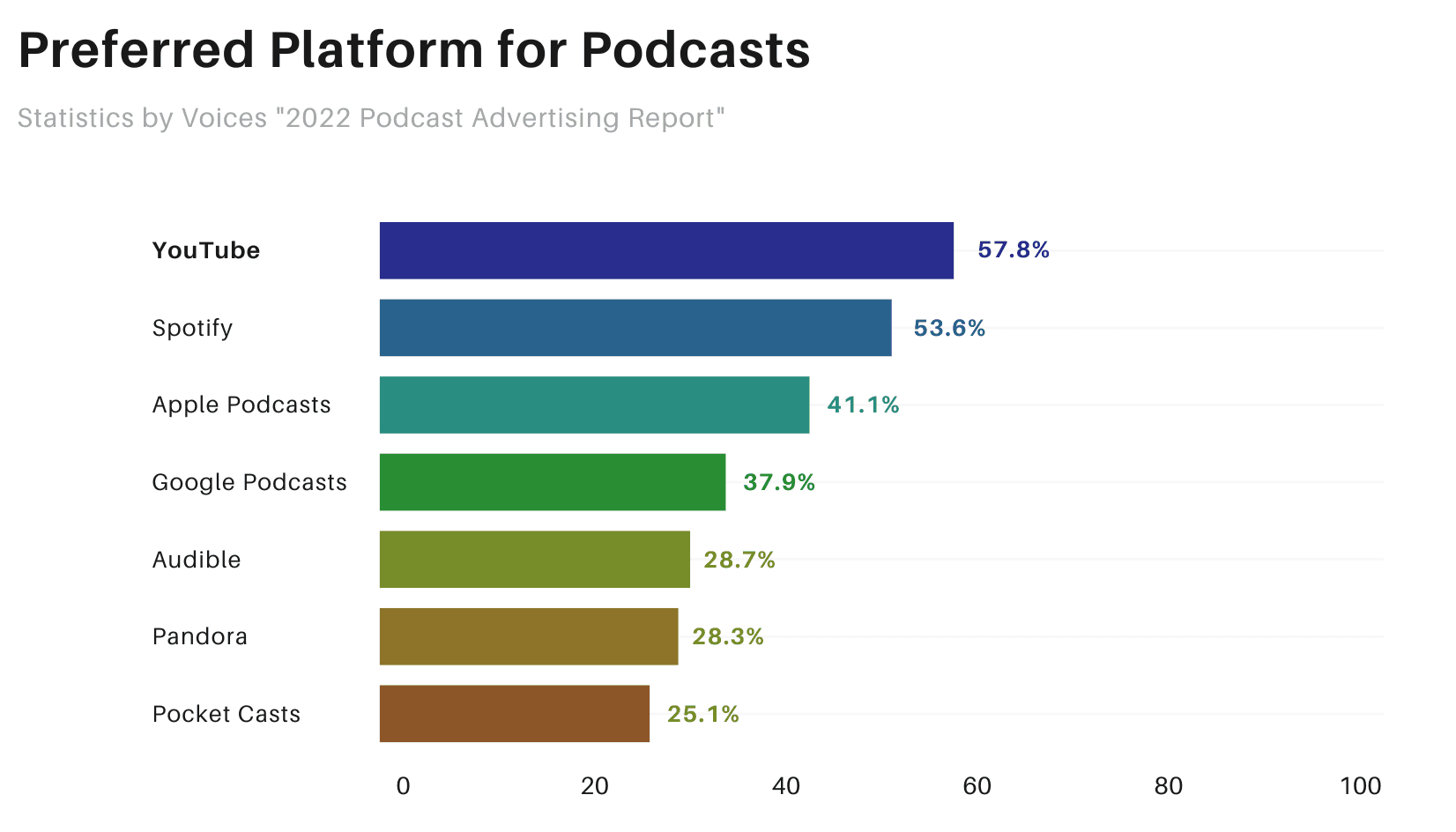 If that speaks your mind, then you guessed it wrong. According to a recent survey conducted by Voices, nearly 60% of podcast listeners in the U.S. prefers listening to podcasts on YouTube.
This means that a staggering majority of podcast listeners find and consume audio content on YouTube, in spite of the vast variety of podcast streaming platforms out there.
Why do people go to YouTube for Podcasts?  🤔
Why YouTube? Although YouTube is essentially a video sharing platform, its accessibility and huge audience have attracted popular audio content creators to use it as a distribution channel.
For many audiences, YouTube is the go-to-destination for audio-visual content, including the genre of podcasts.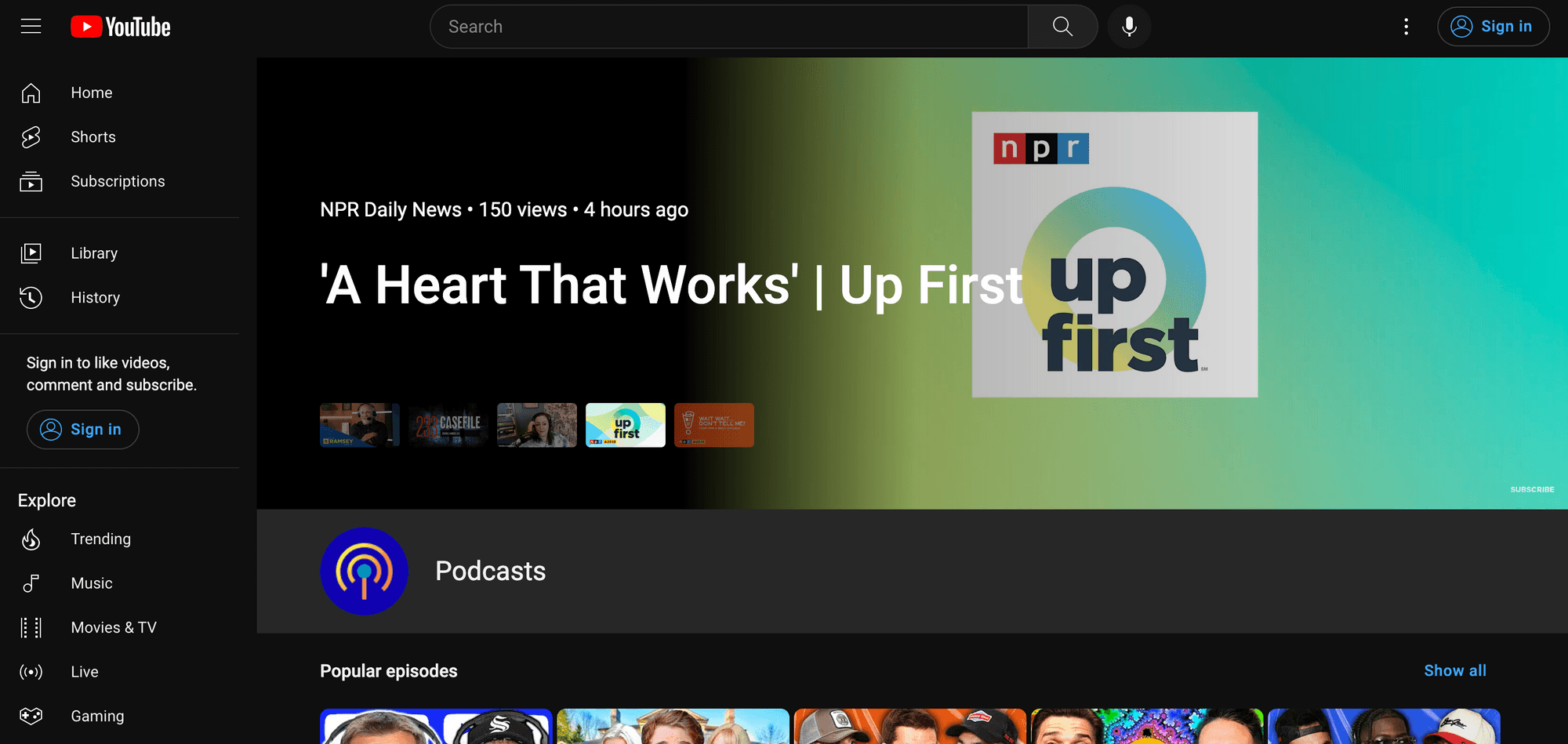 In fact, YouTube itself has also identified the trend. Earlier in 2022, YouTube launched the new Podcast page in the US region that features trending podcasts.
In addition to that, YouTube also just hired its first Executive Podcast Lead to oversee their expansion into the podcast market. In a nutshell, podcasts are growing on the platform!
---
Why should you start a podcast on YouTube? 🎥
1. YouTube is the leading platform
Believe it or not - statistics show that YouTube is the go-to place for many podcast listeners, ahead of Spotify and Apple Podcasts.
The number will only grow bigger as more investments will go into supporting podcasters - in fact, it has been reported that YouTube has been paying podcasters to turn their podcasts into video content.
2. YouTube has a wide audience
YouTube has 2.1 billion monthly active users worldwide, and among them 50 million are YouTube premium subscribers who can enjoy ad-free content, and are able to play content in the background.
These premium subscribers are your core targeted audience, because they are those who can most likely listen to podcasts on YouTube while being on other apps on the phone during their daily commute.
3. YouTube is still new to podcasters
Although YouTube is the leading platform, it is for now not the most straightforward channel to distribute podcasts. Be one of the first podcasters to start tapping into this opportunity to grow your audience.
---
How can you leverage this trend? 📈
Since YouTube is not a podcast host on its own, you cannot host your podcast on the platform, and it does not generate a RSS feed for you. It can only serve as a distribution channel at the moment.
Also, since YouTube does not support audio-only content, you need some tricks to turn your podcast into a video.
🎯Step 1: Set up a YouTube channel
First and foremost, you have to set up a YouTube channel for your podcasts. Customise your channel by creating a branded cover image and a profile picture that will make you stand out among the others.
🎯Step 2: Turn your audio content into videos
The second step is to turn your audio content into YouTube-ready videos. Currently, there are three ways to do that:
Create an audiogram
Add a static image to your podcast
Record your screen for podcast interviews
#1 Create an audiogram on YouTube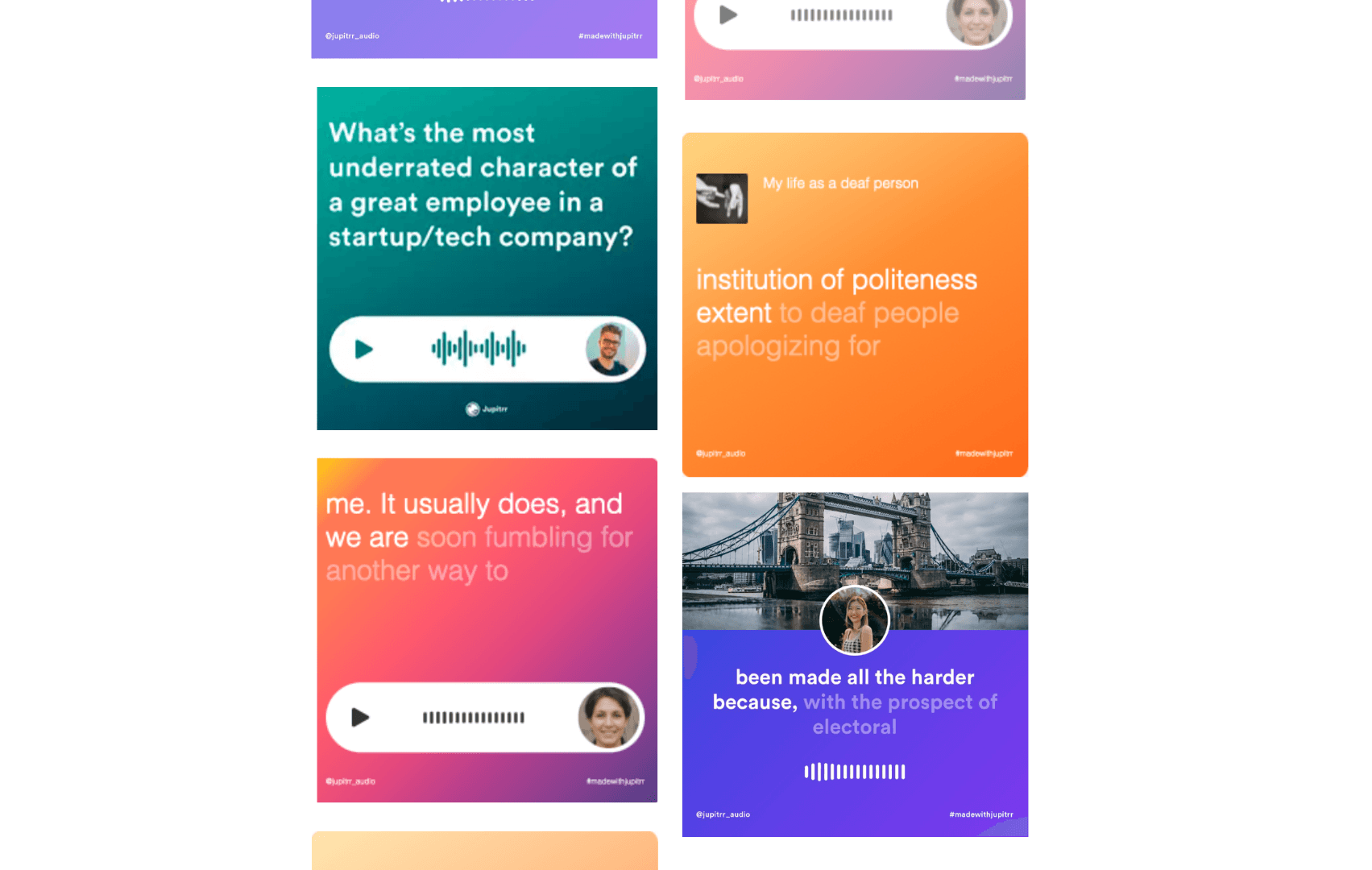 The best way to create a YouTube-ready video podcast, especially if you are on a tighter budget and are reluctant to show your face on the internet, is to create an audiogram.
An audiogram is a shareable video consisting of a static background, an audio waveform, transcribed captions, and an audio voiceover. It is one of the easiest and most engaging ways to promote your podcast on social media platforms, such as YouTube, Facebook, Instagram and many others.
🎨 Creating an audiogram is extremely easy with Jupitrr.
Simply upload your audio recording onto our platform, choose your image, profile picture and title, it's all set. On average, it takes less than 5 minutes to create an audiogram from scratch.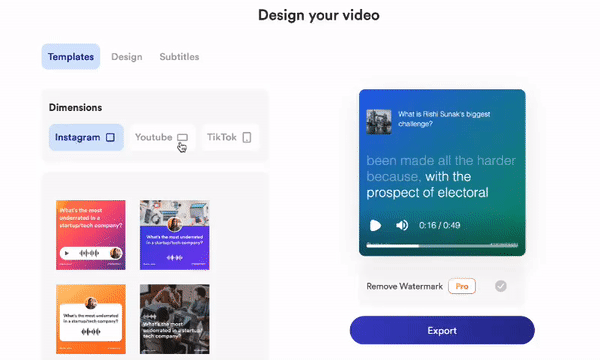 Why is creating an audiogram the best?
🎨Your content will be visually branded. Jupitrr lets you custom-make your audiograms with your brand colours and graphics to help your content stay in line with your branding.

🎞️ Simple animations can be engaging. Jupitrr audiograms come with waveform animations and stylish auto-generated subtitles, which helps to engage with your audience.

⏲️ Repurpose your podcasts into shorter snippets. You can edit your longer podcasts into shorter snippets to create a cliff-hanger. Redirect them to your full-length podcast to make sure that they subscribe to your RSS feed.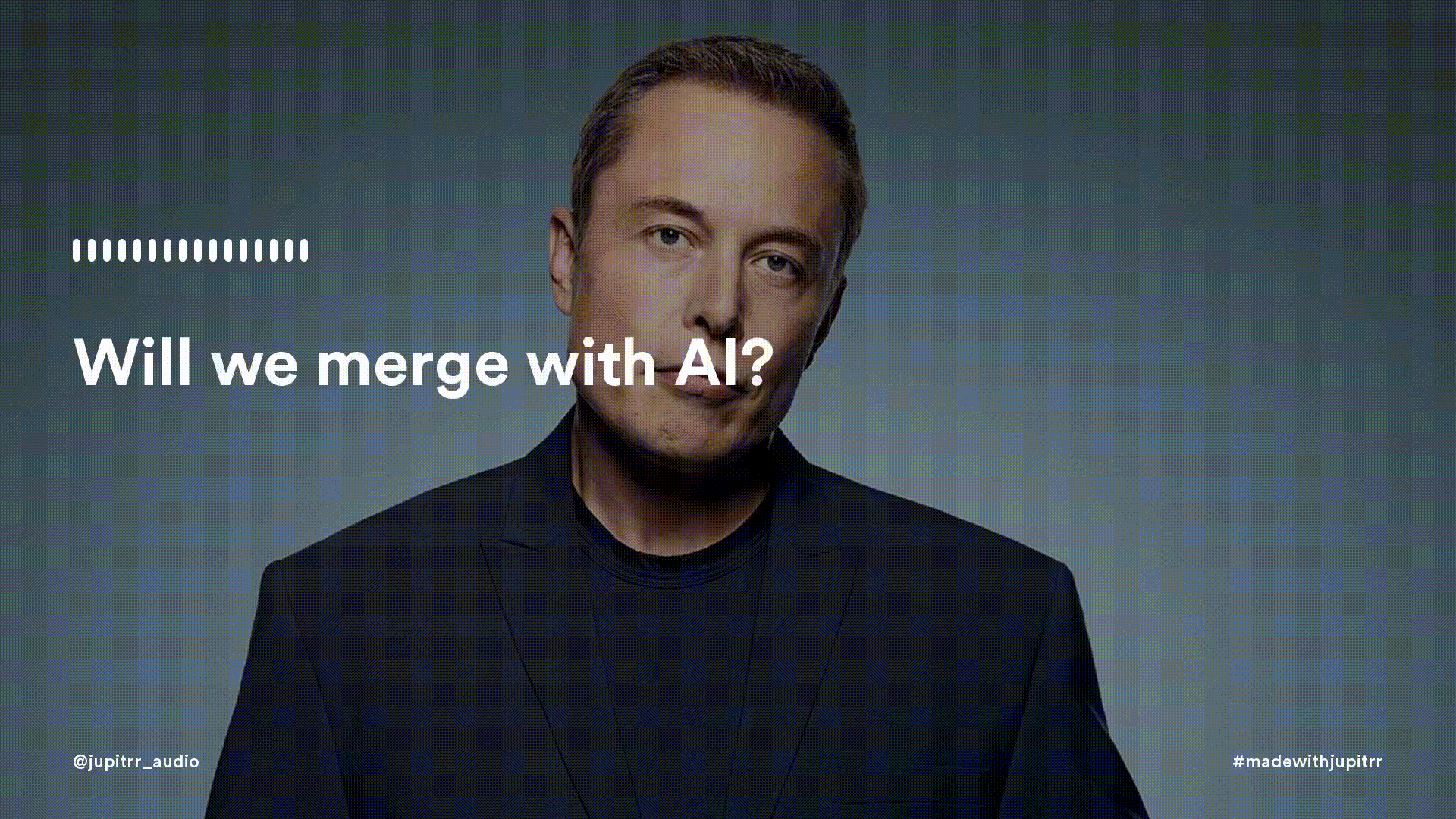 Above is an example of an audiogram in landscape dimensions, ready to be uploaded onto YouTube. For details on how to best create an audiogram for your podcast, don't forget to read our complete guide here.
#2 Add a static image to your podcast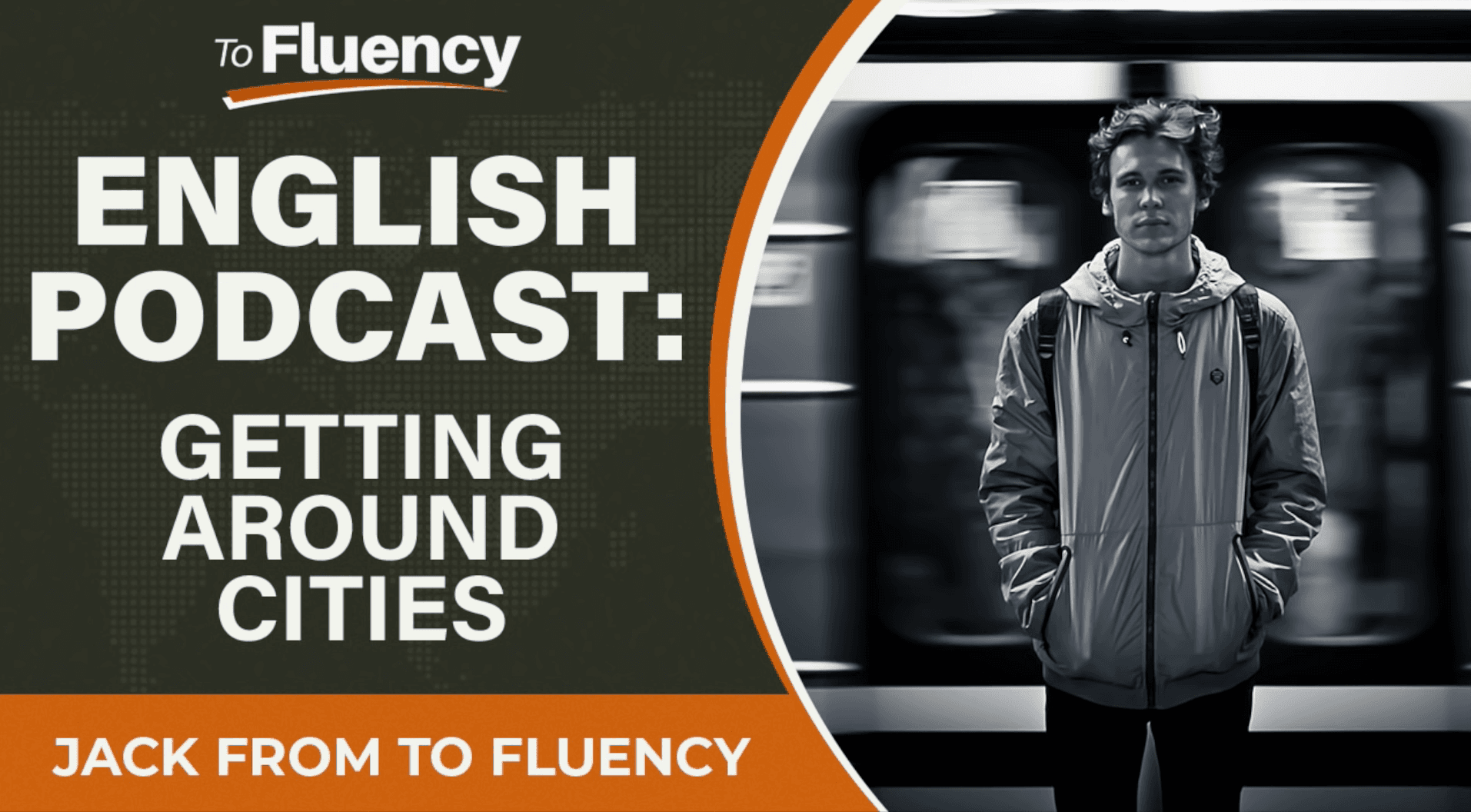 Another way to repurpose your audio is by adding a simple background image and turning on the automatic subtitles. Make sure to also feature your podcast name, episode number and brand colours on the image to improve engagement.
You may think that simply adding a background image can appear boring to the audience, it is not necessarily so.
Take To Fluency as an example - as a podcast channel that teaches English, it has been releasing multiple video podcasts with static images like the above, but still have over 850K subscribers and over 250K views on some of their videos. It all comes down to how your present it!
#3 Record your screen for podcast interviews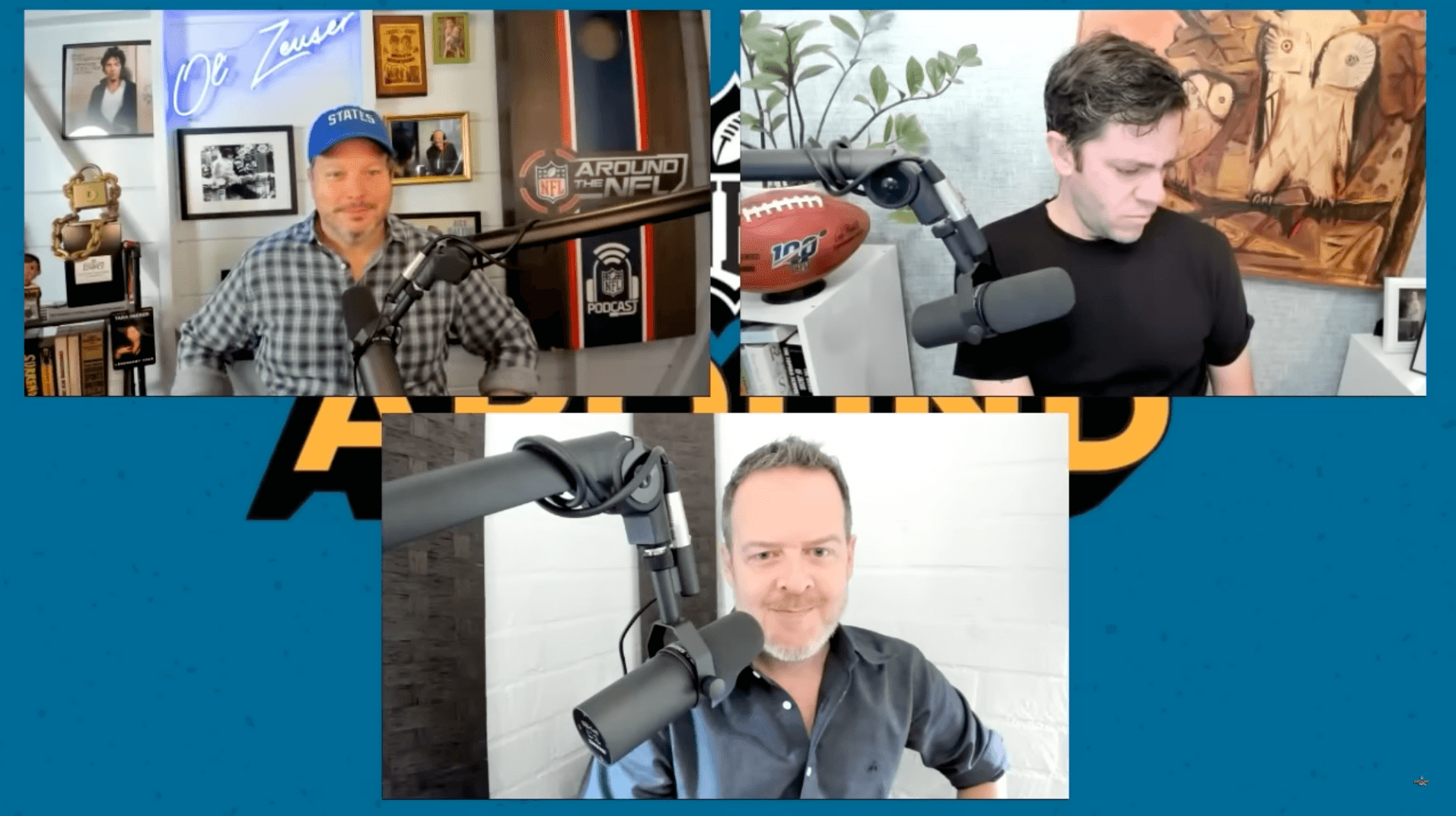 The third way to create a video podcast is to record your screen, especially if you are doing a podcast interview. Simply use a video conferencing tool like Zoom and Microsoft Teams to capture real time video content, while you have your conversation with guests.
Alternatively, record yourself while you are speaking to the camera!
With simple editing, you can transform your podcast into an engaging video in just a few clicks. For instance, the Around the NFL Podcast which covers the latest football news recently did a video on Thanksgiving Day featuring their team members based around the world.
With simple intro and outro music, the video is no different from a podcast if being listened to in the background.
🎯Step 3: Optimise your YouTube videos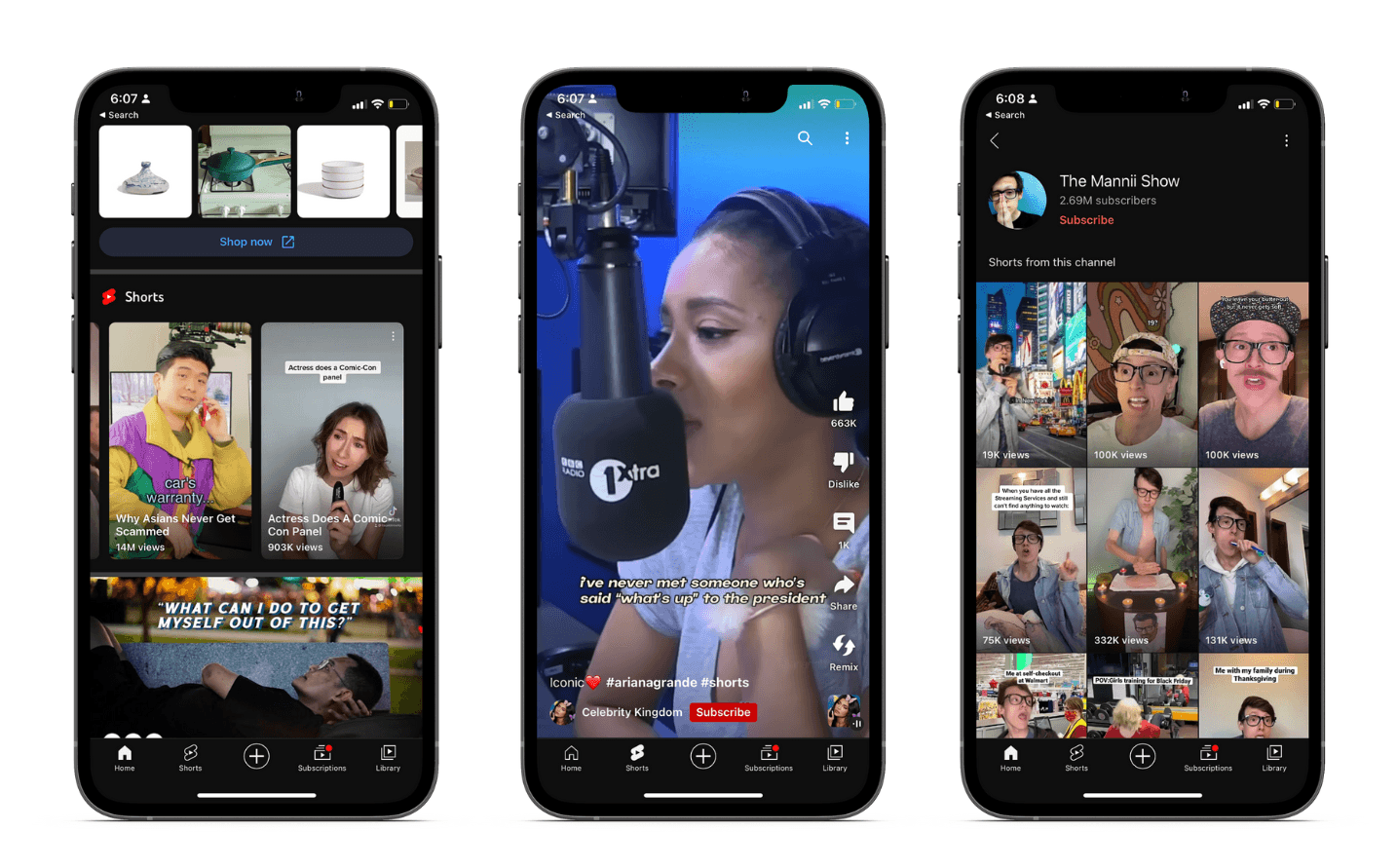 As mentioned above, you can either upload your full-length podcasts onto YouTube, or break it down to create micro-content that is more digestible. Generally, it is recommended that you upload snippets of your podcast onto YouTube to attract viewers back to your website or RSS feed.
One of the newest features of YouTube that you should not miss is YouTube Shorts, which are short vertical videos that last 60 seconds or less.
In fact, they recently disclosed that YouTube channels that use Shorts & Stories on a regular basis grow their subscriber counts 8.5% faster than those that do not. Read more for how to make YouTube shorts from audio on Jupitrr!
Other than that, don't forget to title your video podcasts for YouTube SEO purposes. Find the niche that you would perform best, and start doing keyword research.
Last but not least, make sure that your video dimensions are optimised for YouTube. It is best to export your video podcast in landscape mode (1920 x 1080px) (Same for vertical YouTube shorts).
🎯Step 4: Experimentation is key

Don't hesitate to experiment with different video formats and titles. YouTube is a search engine, and every creator is navigating their ways to generate the most exposure for their content.
It takes time to build an audience, but if your content is consistent and unique, effort will definitely pay off in the long run.
---
Wrapping up 💫
There is little doubt that YouTube is going to be the go-to platform for podcast discovery. As an audio content creator, you should start exploring YouTube as a distribution channel for organic growth, and repurpose your long-form contents into digestible snippets for extra promotion.
Don't miss out - start creating your audiogram with Jupitrr now.
Start creating audiograms now