Podcasts are one of the fastest-growing mediums for content creation and consumption. To grow podcasts, many creators struggle to figure out how to share podcasts on Instagram posts or stories.
💡 Hubspot projected that Revenue for the U.S. Podcast Market will reach $4.23 Billion in 2024.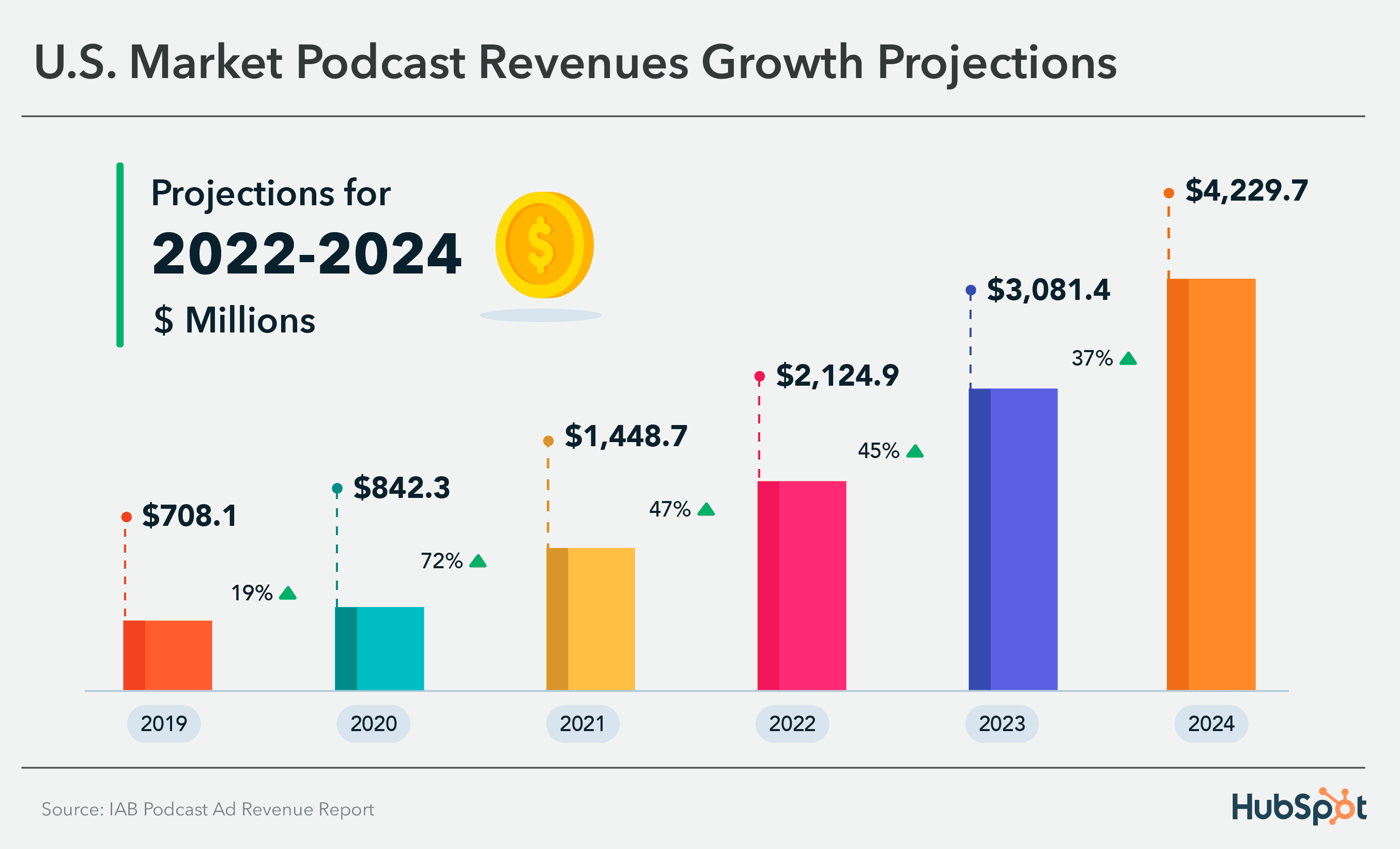 According to a report by Wondery, a leading podcast producer and network, the number of podcast listeners who prefer video has increased by 11% since 2019.
🖐🏻 Wait... how to actually share a podcast on Instagram posts or stories?
In this blog, we'll explore why you should share podcasts on Instagram, what you should not do, and how to do it right.
Why You Should Share Podcasts on Instagram?
💁‍♀️ Reach a Wider Audience
It is extremely hard to consistently get new audience on platforms like Spotify. Meanwhile, Instagram has over 1 billion monthly active users, making it a powerful platform for podcast promotion. Get new listeners on Instagram who may not have discovered it otherwise.
🕶️ Visual Appeal
Make audiograms for Instagram. Audiograms are short, animated videos that feature a snippet of your podcast audio, along with a waveform visualization and captions. They are visually appealing and engaging, making them more likely to grab the attention of Instagram users. We will explain more later in the article.
Jupitrr AI Video Maker
Automatically generate captions and stock footage for your raw footage in just a few clicks.
Try it for free
🗣️ Increase Engagement
Sharing your podcast on Instagram can also help increase engagement with your audience. Encouraging listeners to share their thoughts and feedback on your podcast in the comments section fosters a sense of community and builds a stronger relationship with your audience.
🙅‍♂️ What You Should Not Do
Directly Posting the Podcast Cover or Link onto Instagram
While sharing podcasts on Instagram can be an effective way to reach a wider audience, there are a few things you should avoid doing. One of the most common mistakes is simply posting the podcast cover or link on Instagram. Here's why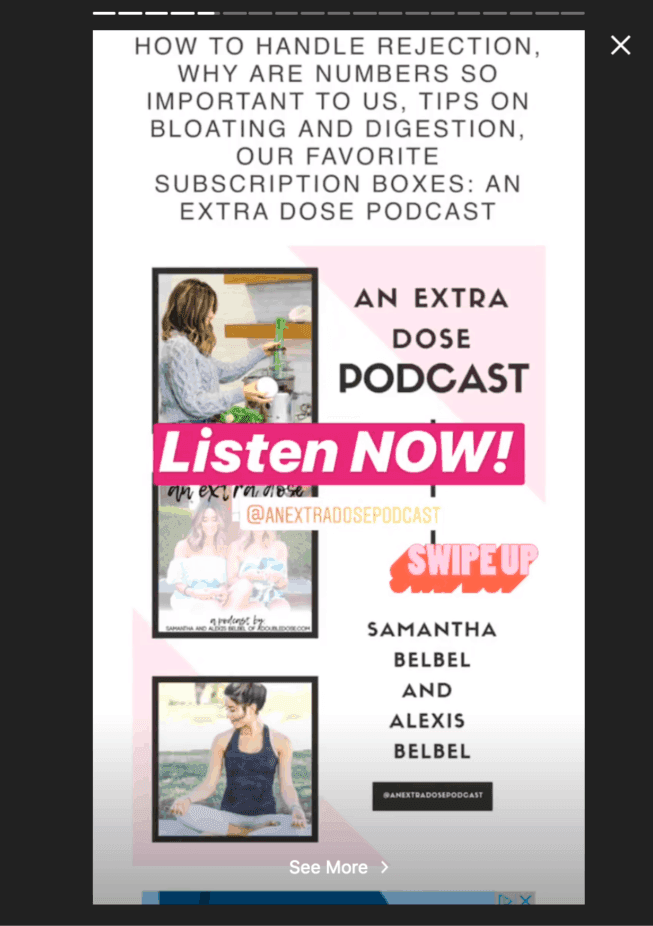 Podcasts are too lengthy for IG Audience
Podcasts are often too lengthy and unattractive for Instagram users - they like and are used to short-form content. That's why reels and stories exist!
No Audio Example
Posting a podcast cover or link does not provide any example of the audio content. There is no trigger point for the audience to stop and listen to your podcast.
🌟 Best Way to Post Podcasts on Instagram
Turn audio into video with Audiogram Videos
To create an engaging and visually appealing way to share your podcast on Instagram, consider creating audiogram videos.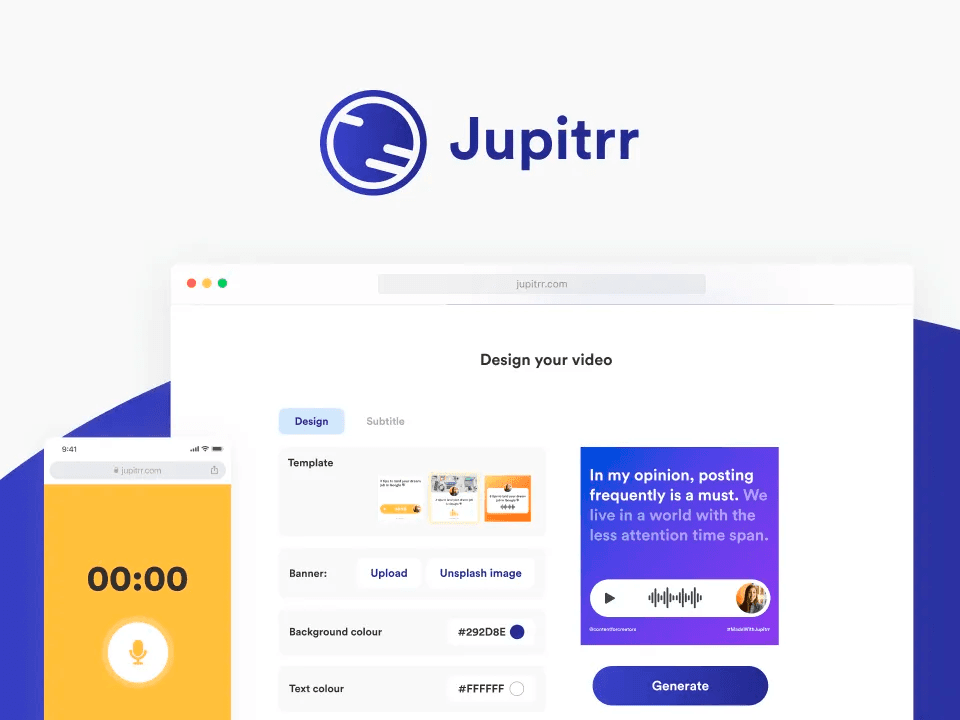 Audiogram videos are short, animated videos that feature a snippet of your podcast audio, along with waveform visualization and captions. They are a great way to grab the attention of Instagram users and encourage them to listen to your podcast.
One of the easiest and most efficient ways to create audiogram videos is to use a tool like Jupitrr.
Jupitrr allows you to upload your podcast audio, select a waveform visualization, select font style and add captions to create a stunning and engaging audiogram video. Once you've created your audiogram video, you can easily share it on Instagram as a post or story.
How to Share a Podcast to Instagram as Posts or Stories?
Here is a step-by-step guide to sharing your podcast on Instagram as a post or story like this:
Jupitrr helps creators generate audiogram videos that feature a snippet of their podcast audio, with customizable fonts, waveform visualization, and captions. After landing to the page, click 'Create yours now'.
2.  Upload a voice recording / audio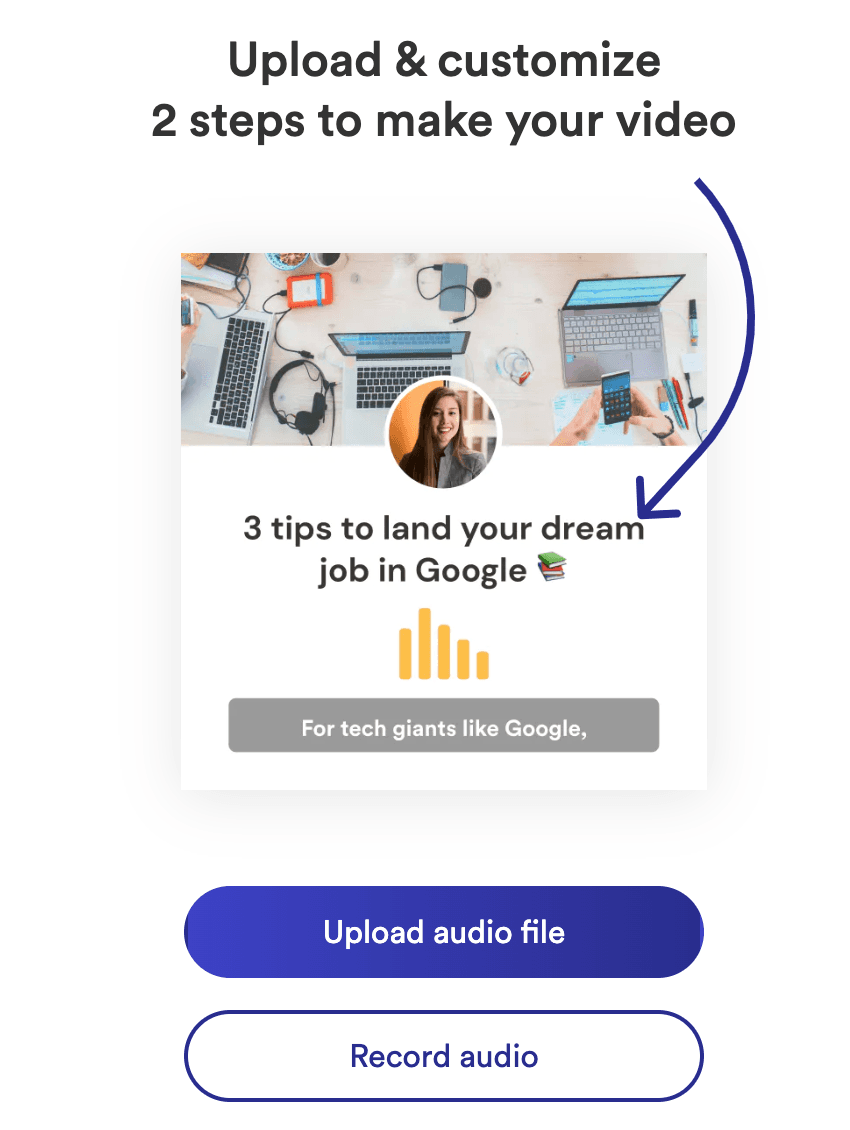 3. Pick Templates and customize!
There are 3 tabs in the audiogram creation process:
Templates: where you can pick the dimension of the audiogram as well as the design of it
Design: here you can customize your title, font style, avatar, banner image, background color and text color!
Subtitles: AI-generated subtitles are ready for you. You may freely change them at your own will.
Export and Post Audiogram Video on Instagram
Finally, export your video!
Create a new Instagram post or story by selecting the audiogram video from your camera roll.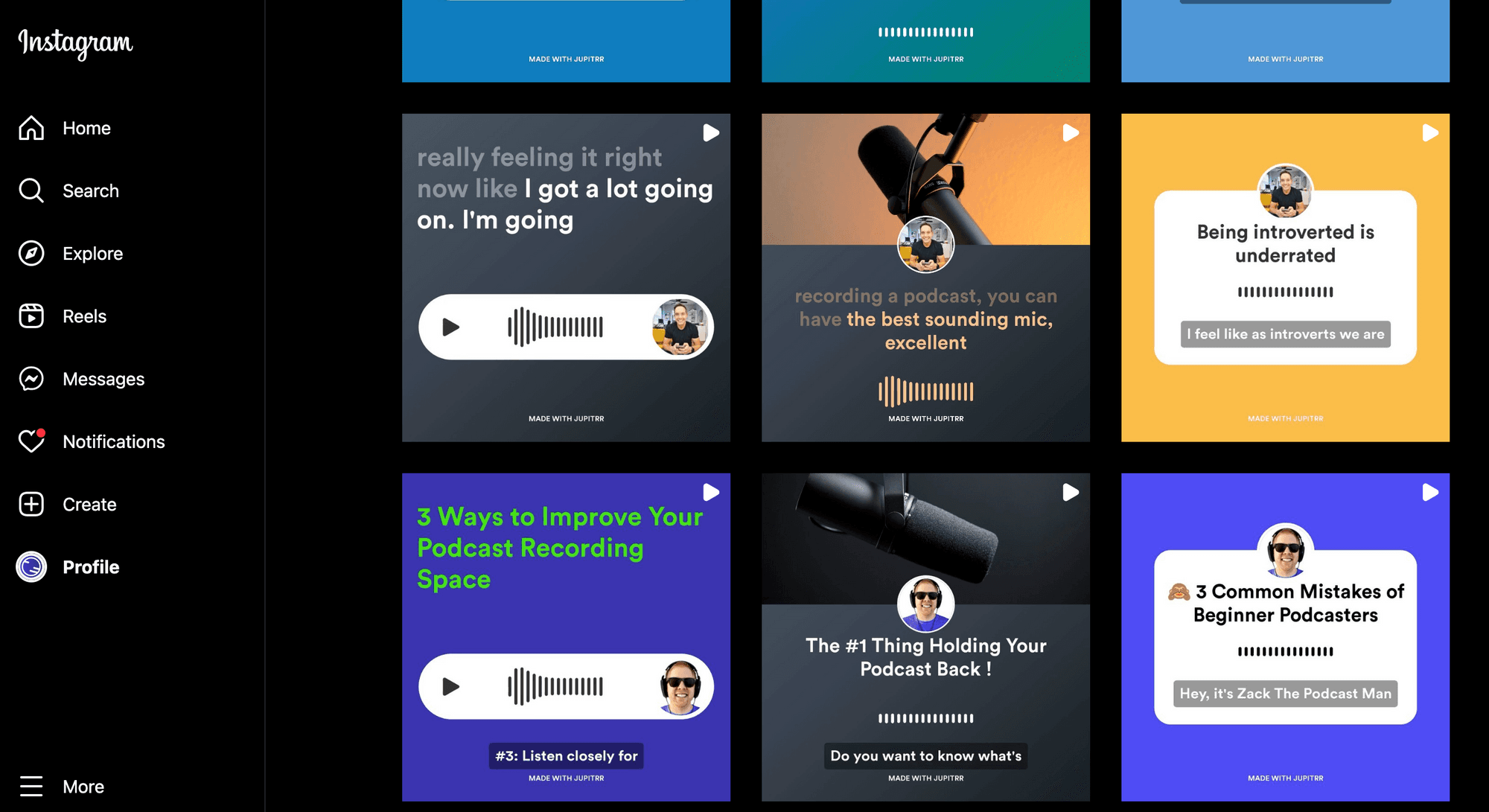 Tips on Podcast Promotion on Instagram
If you have ideas other than making an audiogram, here are some tips you need to know:
Collaborate with Other Podcasters: Collaborate with other podcasters to reach a wider audience and build your network.
Host Contests and Giveaways: Host contests and giveaways to encourage engagement and reward your followers.
Use Eye-Catching Graphics: Use bright and bold graphics to catch the attention of your followers.
Share Teasers: Share teasers of upcoming episodes to build excitement and anticipation.
Share Clips: Share short clips from your podcast to give your followers a taste of what they can expect.
Go Live: Host live Q&A sessions or interviews with guests to engage with your audience in real-time.
Use Instagram Reels: Use Instagram Reels to create short, entertaining videos that promote your podcast.
Share Behind-the-Scenes Content: Share behind-the-scenes content to give your followers a glimpse into the making of your podcast.
Use Instagram Ads: Use Instagram ads to reach a wider audience and promote your podcast.
Consistency is Key: Consistently post new content and engage with your audience to build a strong following on Instagram.
Final Words
Sharing your podcast on Instagram can be a great way to reach a wider audience, increase engagement, and promote your content.
By creating audiogram videos, using hashtags, and engaging with your audience, you can build a loyal following and grow your podcast audience. So get creative, have fun, and start sharing your podcast on Instagram today!