With over 5 million podcasts and 70 million episodes, it can be challenging to promote your podcast amidst a sea of competing productions.
As part of your promotional strategy, diversifying your format and channels is crucial, and social media is a key platform for podcast marketing. However, repurposing your podcast for social media can be time-consuming and resource-intensive, especially since podcasts are primarily an audio-only medium.
To create engaging social media content that complements your podcast, you need to create videos that complement your audio files. This is where audiogram templates come in handy.
What are audiograms? 🙋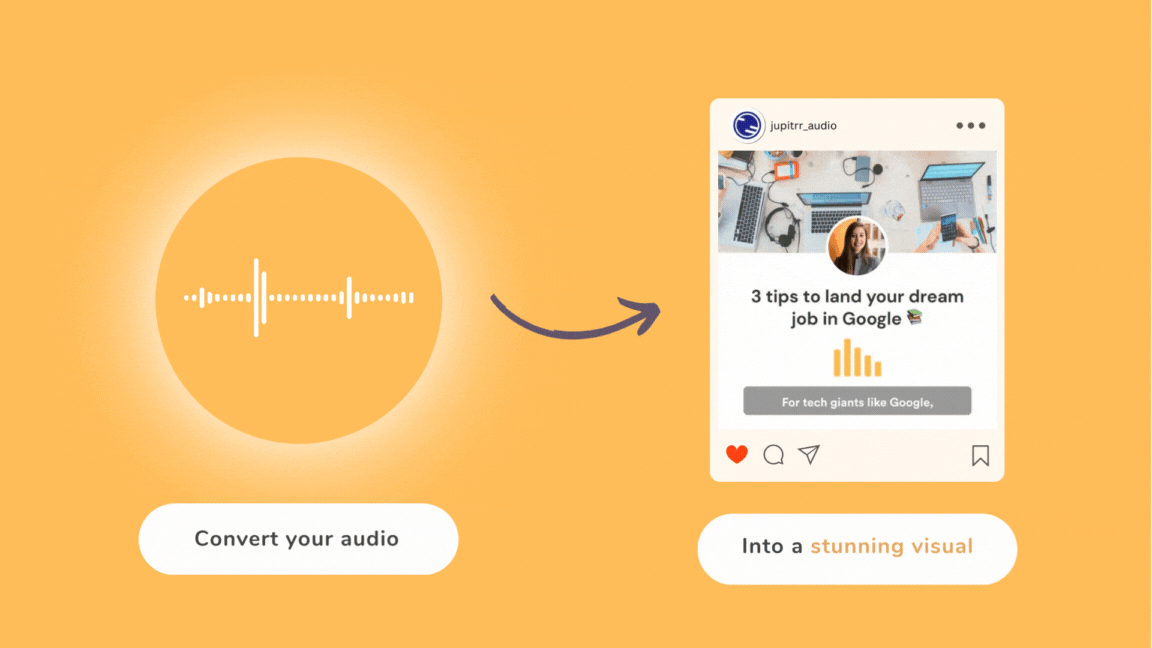 Audiograms are short animations that include sound waves, texts, visual arts and audiotracks, which are usually reformatted to promote audio clips like podcasts. They are highly shareable marketing assets that help to promote your podcasts effectively on your social channels.
Why are audiogram templates useful? 🎨
By using pre-designed templates, you can quickly and easily create eye-catching videos that maintain your brand's visual identity and save time in the process. You can also maintain brand consistency across all social media channels, while also freeing up effort to focus on creating more podcast content.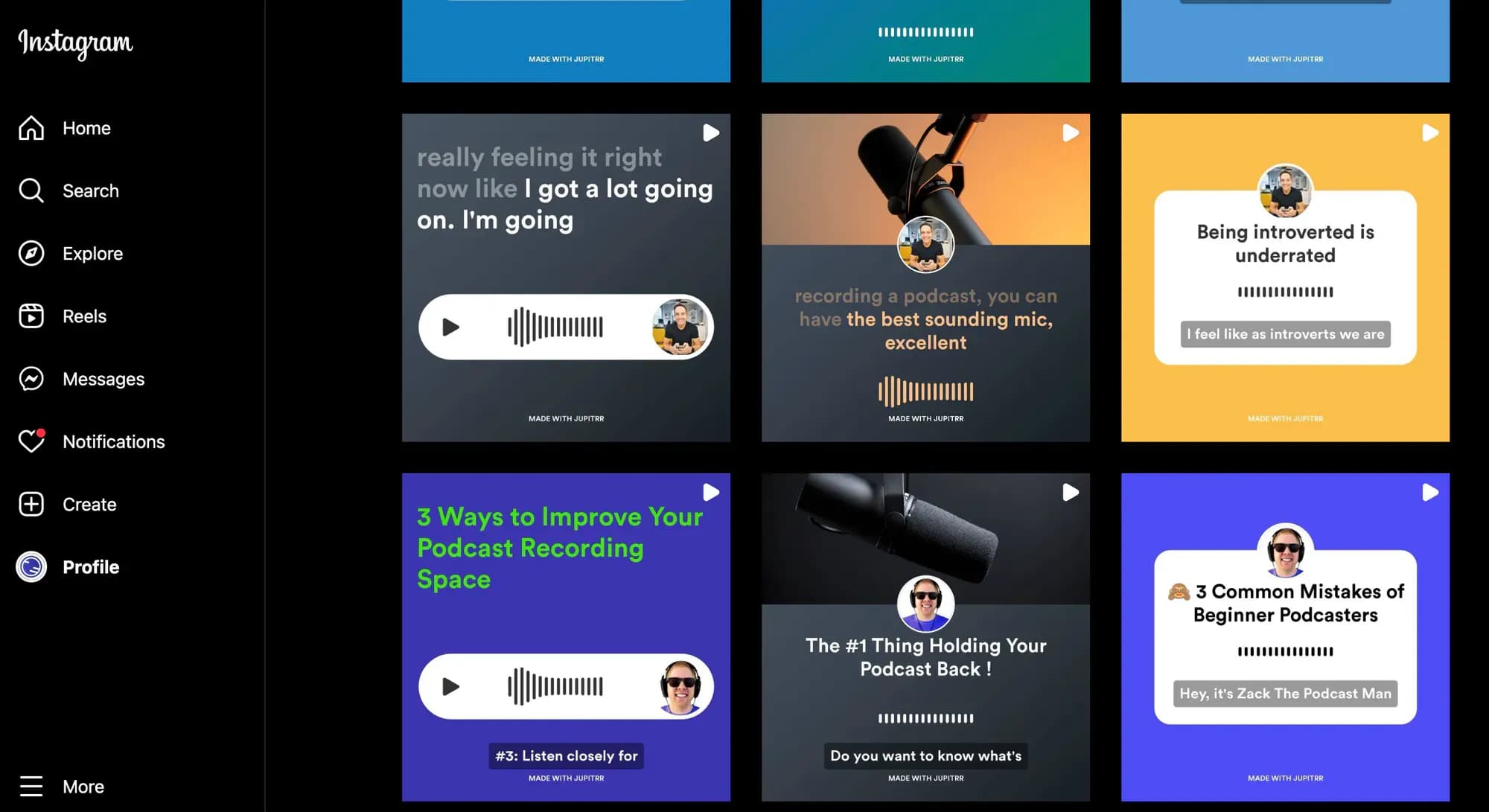 We understand that podcasters like you have a lot of things to juggle, and designing audiograms can take a lot of time. This is why audiogram templates come in extremely handy. Simply choose from our series of templates and create your tailored audiogram in just under five minutes.
In this blog, we will discuss the five types of audiogram templates on Jupitrr that you can use to transform your audio clip into a compelling short video.
Our 5 best audiogram templates
On Jupitrr, each of our templates features a unique combination of soundwaves, titles, colours, and brand assets, all designed to give your audiogram a fresh and unique edge.
All fonts, animations and colours are customisable - below we're just demonstrating how the layouts can look like.
Whether you're promoting your latest podcast episode or just sharing a memorable quote, our audiogram templates provide an eye-catching way to showcase your audio content on social media.
1. Classic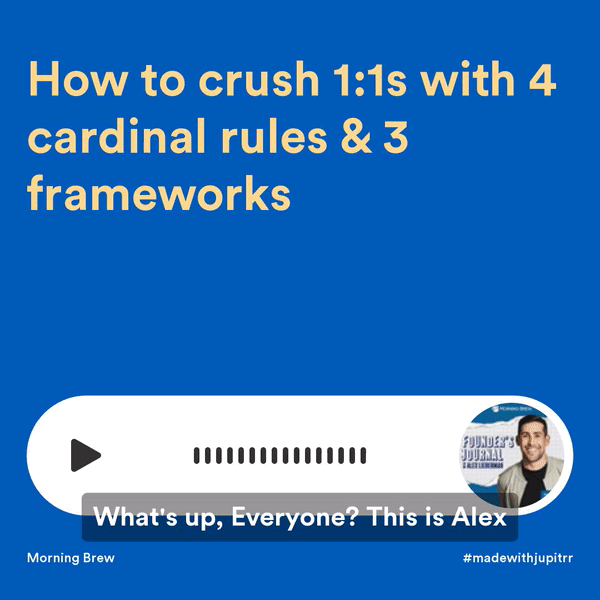 Our Classic template has a simple yet captivating design. It features a single-coloured background and bold titles that sit at the top left corner, giving it a sleek appearance. The white bar is enlivened with animated waveforms, which add a touch of dynamism to the otherwise minimalistic design. This audiogram template is perfect for those who want a simple and polished look without sacrificing its visual appeal.
2. Fade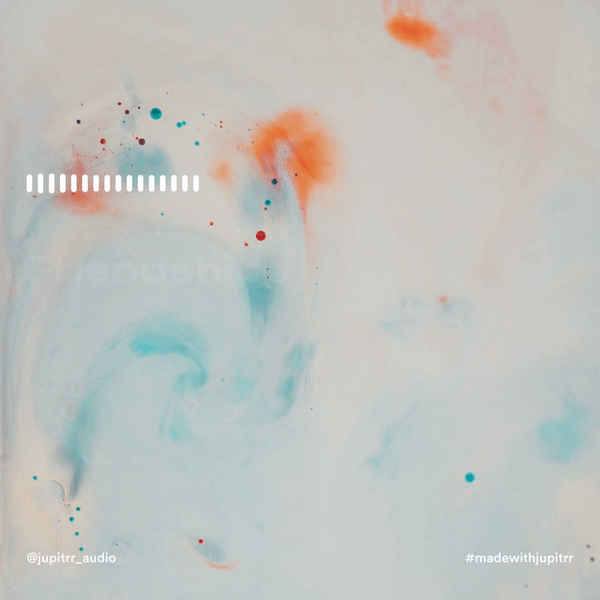 With its dimly lit background, our Fade template creates a subtle yet stylish ambiance that'll elevate your presentation to the next level. The white animated subtitles are perfectly complemented by the animated waveform at the top, capturing your audience's focus.

3. Block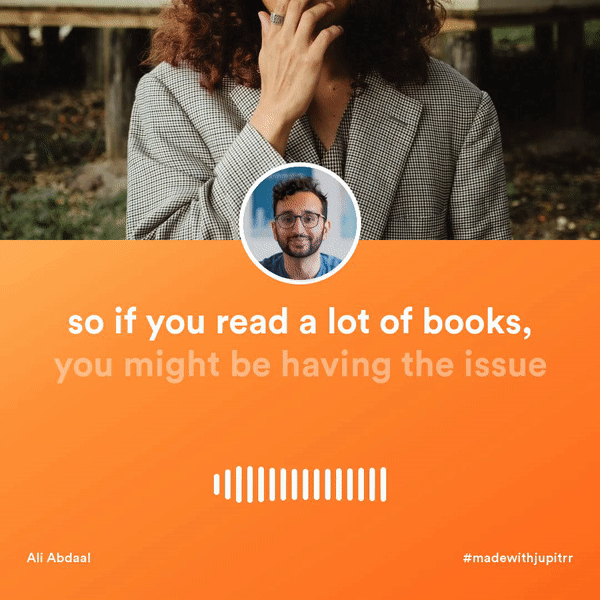 The Block template features a trendy block of colour that serves a background for our auto animated subtitles and waveform. What's special about this is that your profile picture will be featured at the centre, highlighting your profile.
4. Card
Our Card template features a white middle section, which helps draw sharp focus to your title. If you want your audience to be able to read along as they listen, you can choose to have subtitles right above the audio waveforms. With colours in the background, there is a striking contrast that is both playful and vibrant.
5. Book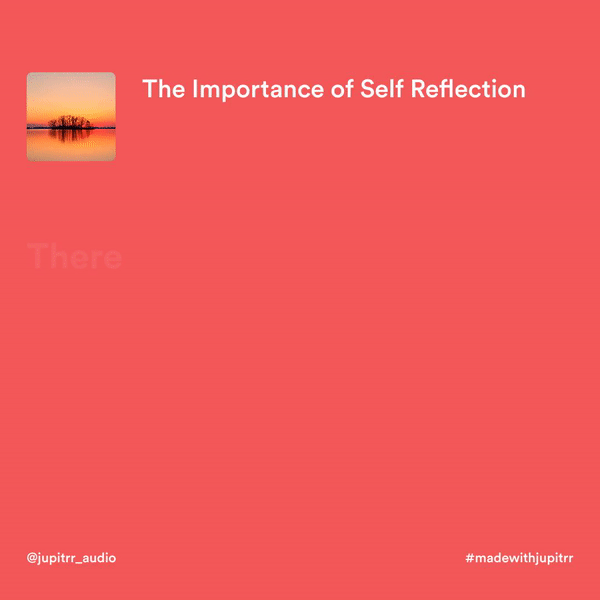 The Book template showcases your podcast art and title at the top, ensuring that it gets the attention it deserves. Additionally, the animated subtitles are strategically placed in the middle, making it the most readable template we offer.
We've recently launched more new audiogram templates! Check them out on Jupitrr and start creating your audiogram today.
How to create an audiogram using the templates?

Step 1: Upload your audio clip or record on the spot.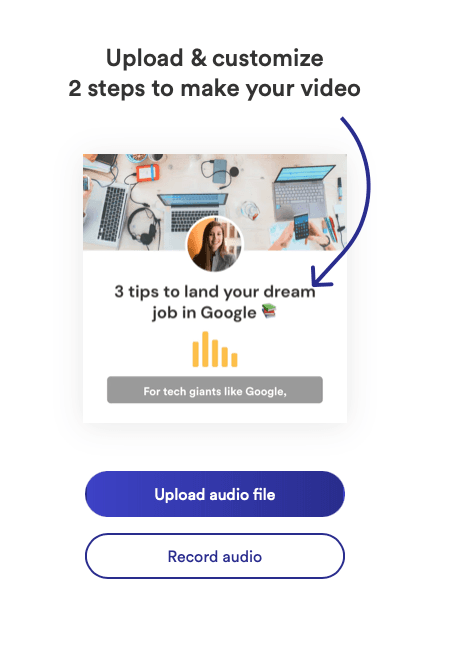 On Jupitrr, all you need to start with is the audio itself. Simply upload your podcast snippet and let Jupitrr does its magic!
Step 2: Upload your brand imagery and assets

Your audio is now processed! When you click the play button in our audiogram creator, you'll see your audio visualised in a wiggly waveform.
Now, simply upload your brand imagery and assets on the 'Design' tab, and our audiogram generator will easily reuse the assets across our existing templates.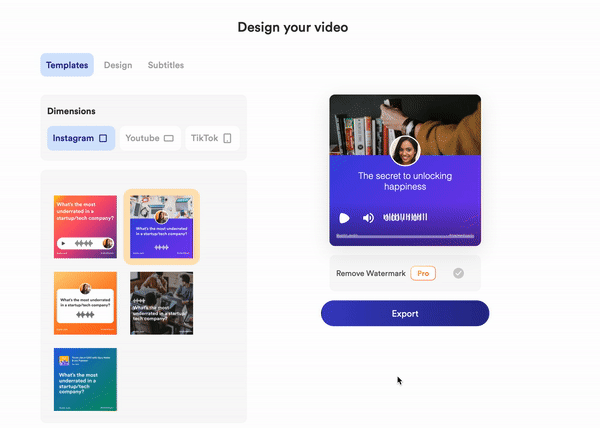 On Jupitrr, we have created a multitude of designs that are optimised for different social channels, including square, landscape and portrait. While square sizes are usually the most versatile, the portrait mode allows for you to share content on Instagram story, YouTube shorts and Tiktok, and the landscape version gives you the option to export that as a YouTube video.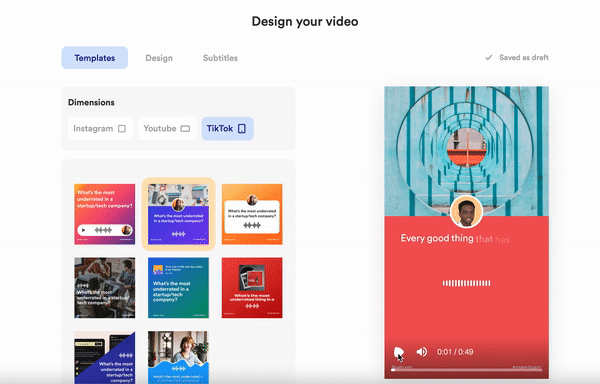 Step 3: Play with design and subtitles

You can always go back to the design tab where you can further tailor the template to your own branding needs such as changing colours, fonts and adding your own social media handle.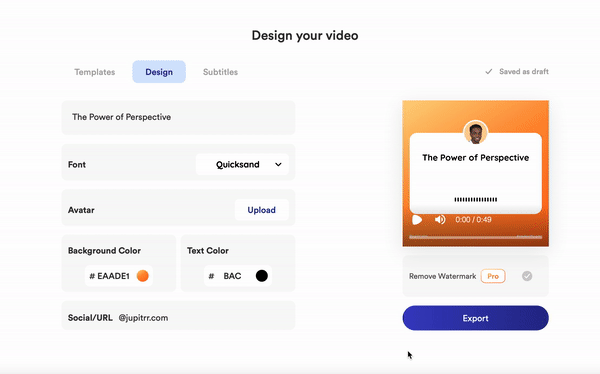 Last, if you haven't noticed already, Jupitrr generates your caption automatically and creates beautiful animation in seconds. We understand that many people are used to consuming content on the go with the sound off. To change any of the subtitles, simply head to the 'Subtitles' tab and make changes directly.
Repurpose content with audiogram template

Here you go, a beautifully animated audiogram video that is ready to be shared with your network on your social media channels. With every new podcast release, select snippets of audio to repurpose as social media content, so you don't have to worry about the additional effort needed to promote your podcast online.
Looking for more templates? The Jupitrr team is now working on creating more templates for you to use. Stay tuned for our updates, or get in touch with us today!
Start using audiogram templates