This is a complete guide to creating audiograms for podcasts 100% FREE.
In this in-depth guide you'll learn :
What are Audiograms for podcasts?
Why should podcasters make audiograms?
Step by Step guide to creating audiograms for podcasts for FREE
Best way to create audiograms for podcasts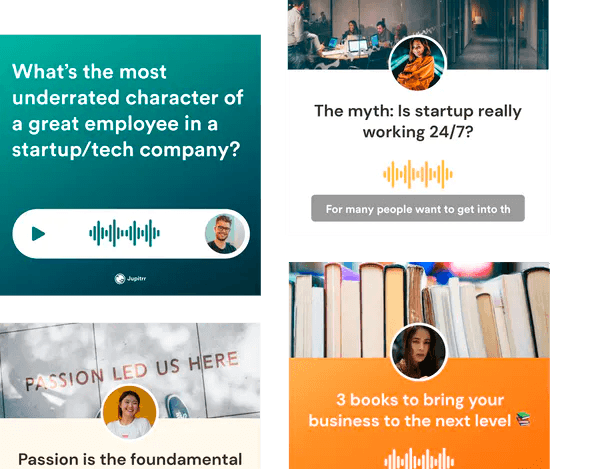 Are you looking for a guideline to create audiograms like the above? This would be the ultimate guide you need so you can promote your podcast across social media platforms .
---
What is an Audiogram for podcasts? 🎙
An audiogram is a shareable video consisting of a static background, an audio waveform, transcribed captions, and an audio voiceover.
Audiograms are often used to promote podcasts on social media, it is an effective way to share bite-size audio content to a wider audience.
Audiograms allow podcasters to generate a digital presence on different social media channels while delivering unique value and driving the audience to their podcast simultaneously.
You can easily generate an audiogram in a few minutes with Jupitrr.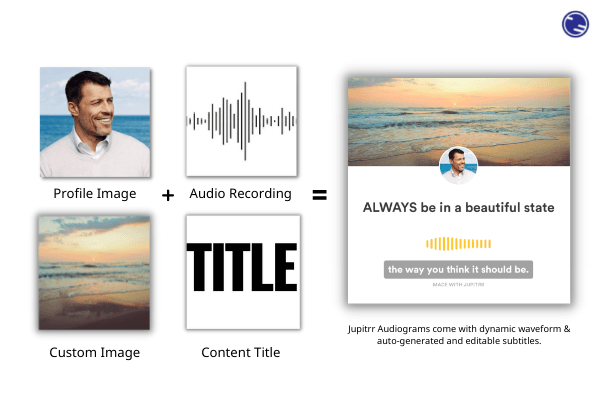 ---
Jupitrr AI Video Maker
Automatically generate captions and stock footage for your raw footage in just a few clicks.
Try it for free
Why should podcasters make audiograms?
Audiograms are extremely beneficial for podcasters for multiple reasons:
1. Audiograms can serve as a "trailer for your podcasts".
Trailers attract people to watch a movie, the same applies to podcasts. Using audiograms as a trailer allows people to have a taste of the excerpts drawn from the most enticing part of your podcast, making them more likely to visit your podcast.
2. Audiogram is a great way to add visuals to your voice.
Visuals are extremely important on social media and audiograms fit perfectly into social media feeds, giving podcasters a great way to engage their audience visually.
According to OneSpot, 90% of the information our brain receives is visual, making visual elements a crucial component of your podcast.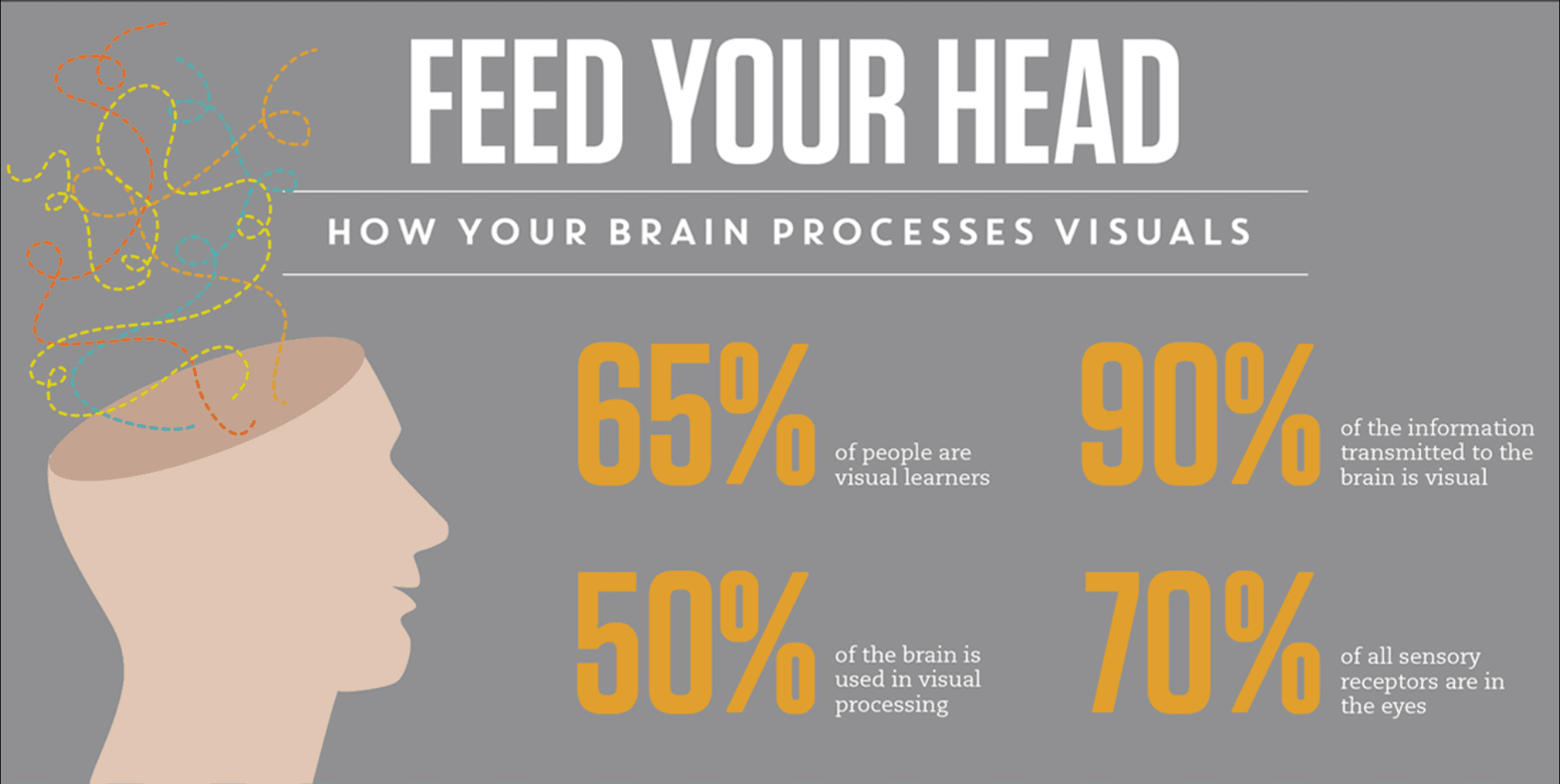 3. Audiograms let you reach a wider audience and grow faster 💨
Let's be honest, podcasting platforms don't exactly offer you amazing organic growth. Without the help of the recommendation algorithm and a well-built search engine, it is often extremely hard for podcasters to grow within existing podcasting platforms.
Posting audiograms on your social media gives you access to a wider audience, helping you grow your podcast. Let's take Instagram as an example, it attracts over 700 million users monthly, while the total number of podcast listener only sum up to 380 million. Audiograms give you access to visually dominated platforms like Instagram, Facebook, Twitter, LinkedIn, bringing your content to a much wider crowd.
4. Audiograms are super easy to create.
5. Audiogram works ✅
According to America's most listened-to public radio station WNYC, social media posts with an audiogram gets 8x more engagement when compared to those without a visual soundbite, outperforming images by 58% and links by 83%.
Examples of audiograms posted on social media: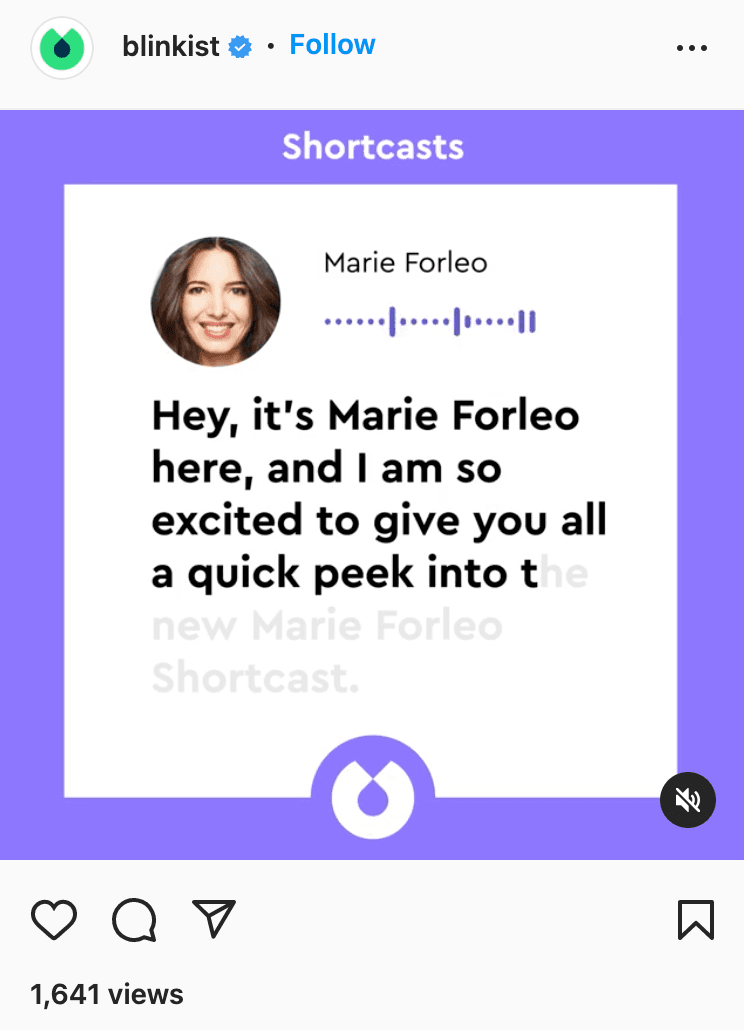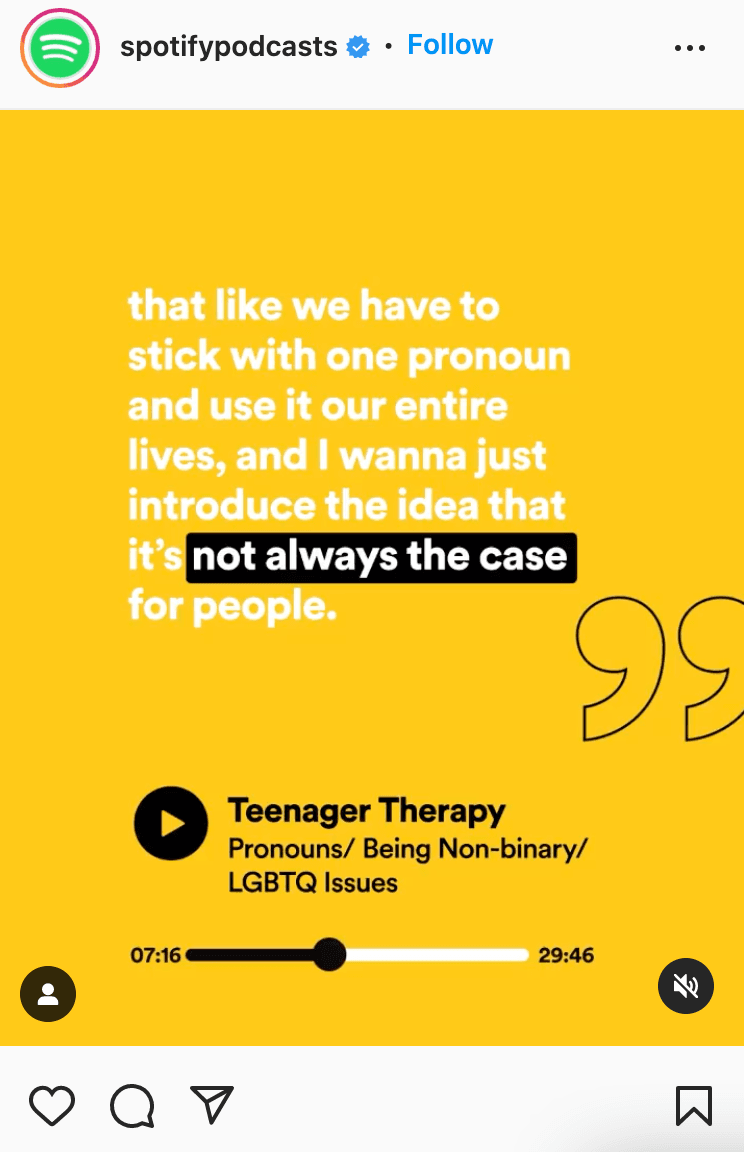 ---
Step by Step guide to creating audiograms for podcasts 100% FREE
You don't have to be a programmer to learn how to create audiograms. With Jupitrr, you can create your personalized podcast for FREE within 5 minutes.
1. Start creating on jupitrr.com - Free audiogram generator
2. Sign up via Email/ Google
3. Customise your profile image, name, and Jupitrr link
4. Give your content a title and start recording
5. Customize your content with different templates, auto-generated subtitles, and customizable banner image
6. Upload an existing audio or make a new recording
7. You're done :) Download your content and share it on your social media.
---
Tips to create the best audiograms for podcasts:
1. Create audiograms with the right aspect ratios  📐
Although different social media favors different content dimensions, Buffer's research has shown that square audiograms perform the best.
As square audiograms take up 78% more space in an audience's feed when compared to landscape videos, it is more likely for the audience to engage with square audiograms.

Jupitrr has 3 sizes of audiogram output as follows:
Reference dimensions for different social media
| | |
| --- | --- |
|  Social Media Platform | Content Dimension  |
|  Audiogram for Facebook, Twitter, and Instagram feeds |  1080 x 1080px |
|  Audiogram for Instagram stories, IGTV, and TikTok |  1080 x 1920px |
|  Audiogram for YouTube |  1920 x 1080px |
2. Add subtitles to your podcast audiograms 💬
It is vital to add transcribed captions to your audiograms. According to Tubular Insights's study videos with subtitles receive 40% more viewing time when compared to those without subtitles.
How people reacted differently to videos with subtitles:
 Video Type
Average length of
video watched 
Percentage of audience finishing the video
 Videos without subtitles
 66%
 47%
 Videos with subtitles
91%
84%
It is shown that 92% of Americans watch videos with the sound muted, so it is essential to add subtitles to your audiograms. You want your audience to understand your audiogram without turning the volume up, making your content "earphones-free".
3. Add an audio waveform to your audiograms
Audio waveforms are a crucial component of any great audiogram. Adding an audio waveform to your audiograms requires minimum effort, yet allows your audience to differentiate your audiogram from other static images.
Audio waveforms are not only visually appealing, but it is also a feature that stops people from scrolling past your post.
An audio waveform signals your audience to turn up the volume and listen to your content, attracting people to spend more time on your post, which ultimately makes it more likely for them to visit your podcast.
Learn more about adding audio waveforms to your audio.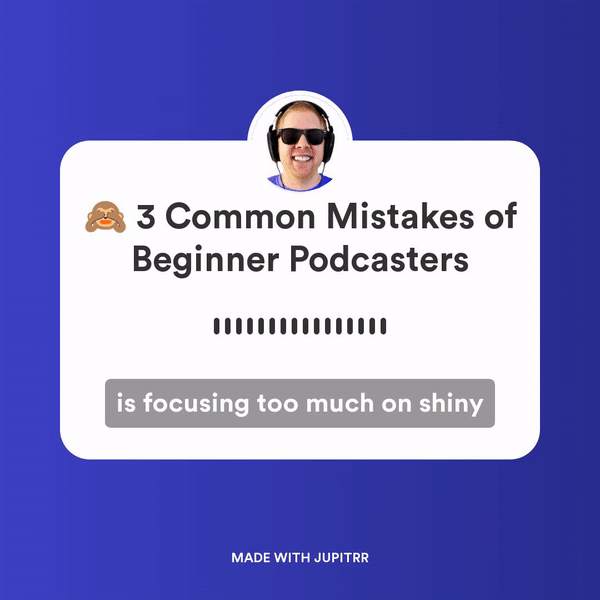 With subtitles and audio waveform, you can bring your audiogram game to the next level. This is an audiogram created through Jupitrr by Zack, a podcast expert, and coach.
4. Keep your audiograms short and sweet 🕒
It is important to remember that your goal of posting audiograms is to grasp your audience's attention and attract them to visit your podcast.
It is unlikely for your audience to spend 20 minutes on their Instagram listening to an audiogram, so keep your audiograms short and sweet.
You want to give your audience just the right amount of content to hook them in, but not completely satisfy them. Creating a cliffhanger with your audiogram is a great way to excite your audience to visit your podcast for the whole story. Alternatively, sharing a value-adding snippet of your podcast can also be an excellent way to build viewership for your content.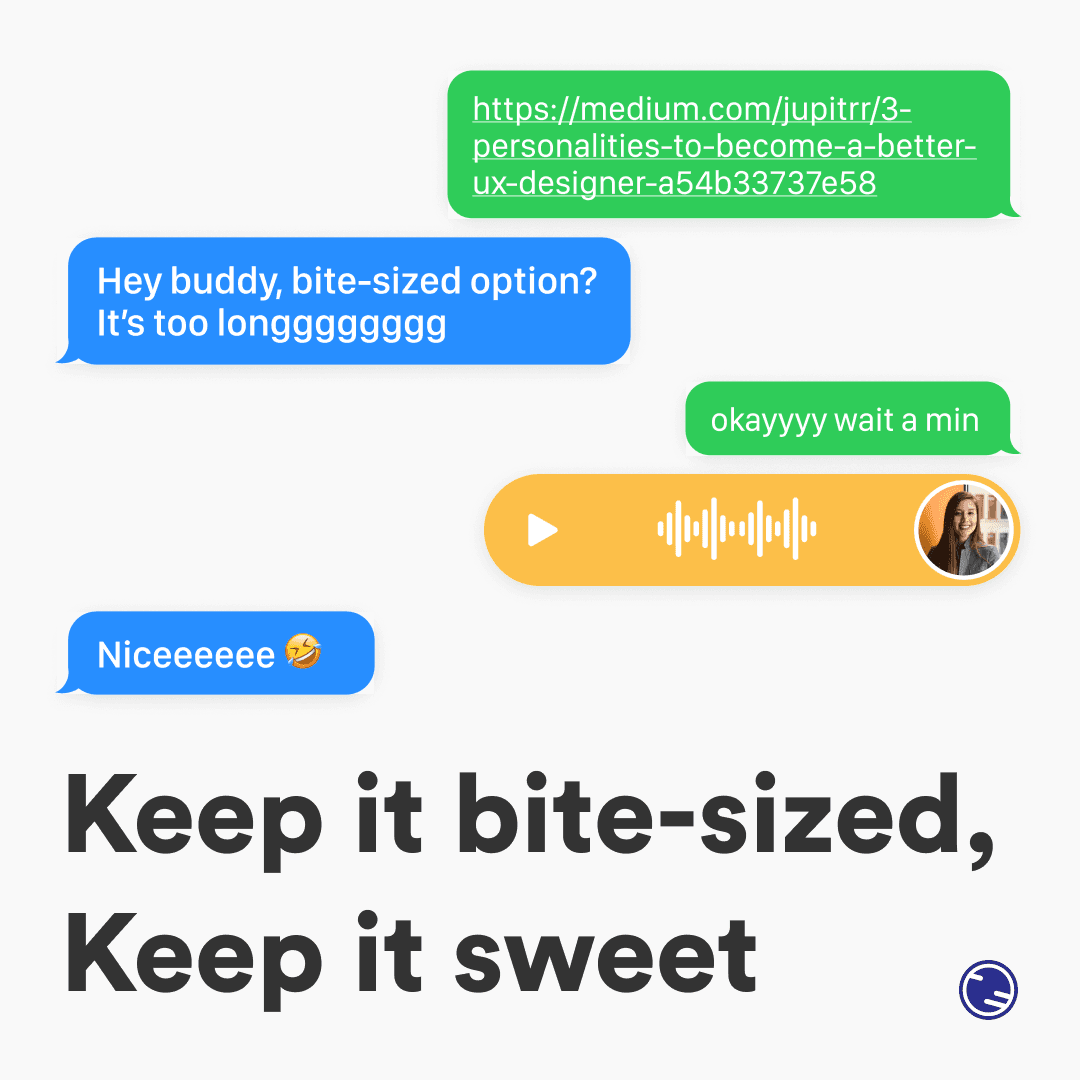 5. Visually brand your audiograms 🎨
It is important to help the audience link your audiogram with your podcast. Try to be consistent with your brand color, logo, and design. Having a consistent brand visually across different platforms builds trust and leads to brand loyalty.
According to Hubspot brands with consistent content are worth 20% more when compared to those with inconsistent brands.
However, having consistent brand visuals doesn't mean that you should stick with the same image every time. It also helps to use an image that relates to the content of the audiogram. For example, if your episode is about mediation, showing an image of people meditating would be a great choice; if your episode is about food, appealing food would be the ideal choice.
Research has also shown that images featuring human faces can make your posts 95% more effective. Remember to add your personal touch to your audiograms, you want your audience to immediately recognize your audiograms when they see one.
Finally, avoid adding too many elements to your audiogram, use visually clean and well-designed layouts to help your audience focus on the audio content you're providing. Oftentimes, using a consistent template with slight customisation for each audiogram is a great way to approach your audiogram visuals.
6. Create an enticing title 📝
The main title of your audiogram is probably the most important element of an audiogram. It has to give the viewer enough context and capture their attention while they are scrolling through their social media feed.
If your audience disabled autoplay, your audiogram title would determine whether people scroll past your post, or click on it.
Try to be creative with your titles, your audiogram title doesn't have to be something like "Jupitrr Podcast Episode 12". Some great examples of audiogram titles could be:
a question (How to grow your podcast 10x in 3 months?)
a shocking statistic (50% of podcasts created were never listened to)
a quote from your guest (Elon Musk: "There's an over-allocation of talent in finance and law" )
something controversial (Your guests are killing your podcast growth!!!)
These titles will help you capture your users' attention and stop them from scrolling past your post. The average attention span on social media is around 2.5 seconds, your title plays a big role in whether users would invest their time with your content.
7. Always experiment with different content 🔬
Experiment with different content and length to find out what works best for your audience. It is important to test what works best for your specific audience.
Something that works for other podcasters doesn't necessarily mean that it will work for you.
Play around with different layouts and images. Do your audiences engage more with bold images? Or do they show more interest in plain title cards? Do they prefer long in-depth clips or short bite-size snippets?
It is also important to be aware of different social media users' content preferences. Your audiences may react differently to the same audiogram on each social media platform. Facebook users might prefer long-form audiograms while Instagram users favor bite-size audiograms.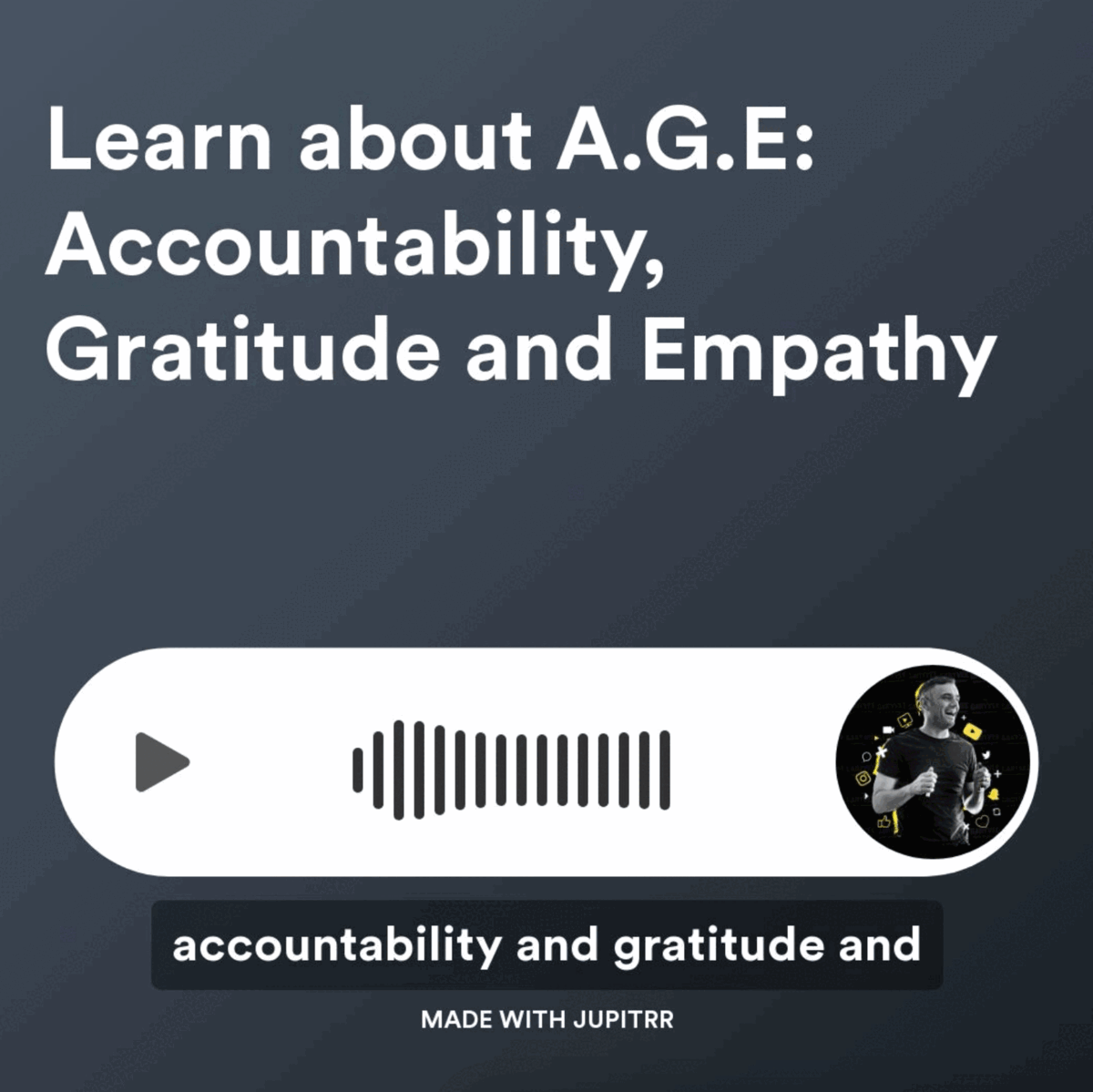 Jupitrr - Free audiogram generator
---
Final thoughts on audiogram 💭
Posting podcast audiograms on social media is a powerful way to attract new listeners and drive traffic to your podcast.
As a podcaster, you are missing out if you're not posting audiograms. We hope this guide clarifies and simplifies how to create audiograms for podcasts.
You can now create audiograms through Jupitrr 100% FREE.
Start creating audiograms now
Feel free to reach out to [email protected] if you have any questions about creating free audiograms with Jupitrr 😁