Have you ever seen videos with soundwave animations that become viral recently on social media? Are you thinking of creating something similar for yourself but unsure where to find a simple and free tool?
We will go through how to add an animated waveform without a credit card or download any software. It's a tool with templates where you can customize colors, pictures, layout etc.
---
What are audio waveform videos? 🔍
By definition, waveforms are visual representations of audio amplitude, the height of the waveform changes according to the audio, giving the audio a dynamic visualization.  
Why do you need audio waveform videos? 💡
You cannot upload audio onto social media, while producing a video is too much effort. A dynamic waveform is the best way to visualize your audio content.

It's EAST, FAST and ATTRACTIVE to your audience.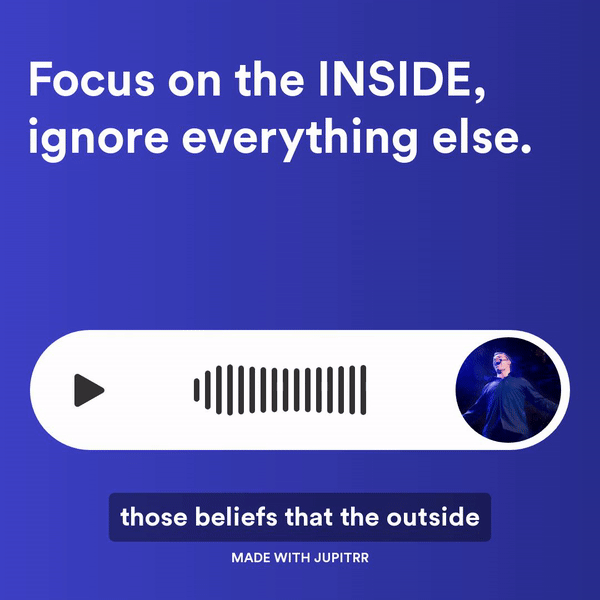 Unfortunately, most social media platforms by default mute video content unless you are wearing headphones.
Audio waveform videos are providing the best signal to the audience for turning up the volume.
If you care about distribution (trust me, it hits social media algorithms nowadays very well) and engagement, having an audio waveform video is the best choice.  
---
How to generate audio waveforms videos? 🔉
Most online generic video editing software out there doesn't include a feature to add waveform animations into your audio content.
That leaves audio artists with the option of downloading premium video editing software such as Adobe Premiere, After Effects, and Final Cut Pro - but that's too much effort, buying the software, learning how to use it etc. - not a good idea...
With Jupitrr's audiogram generator tool, you can make them 100% free.
Jupitrr is a free audiogram generating tool that helps creators use well-designed templates to make beautiful audiograms - fast and easy!
What can this audiogram waveform generator do? 💭

It's important to change components to fit your own branding. That is why, we design it to make you can freely:
Customize theme colors that fit your brand
Upload background images to optimize the click-through rate
Upload a profile picture that represents you
Change design templates  
Get auto-generated subtitles (it's also freely editable!)

FYI, 👉🏻 A Step by Step Guide to Generate Audio Waveform Video
---
When you create an audiogram with Jupitrr, waveforms are built-in. The waveform generator automatically creates a waveform according to your unique voice recording or audio.
Within minutes, your audio content will be converted into a shareable video with not only a dynamic waveform, but also auto-generated subtitles, a neat and clean design, and stunning images.
Once you've finished customizing your audiogram, simply click "Generate Video", and your audiogram file will be rendered and available to be downloaded.
Now you have it! Your audio is now a shareable video with an embedded waveform ready to be shared on social media.
Btw, if you wish to know more about how audiogram videos work on social media, here are 2 blogs you must not miss - trends, statistics, audience behavior, and many more:
---
We believe that everyone can be a creator and should be able to share their voice with the world easily and audio artists are no exception.
In a world dominated by visuals, we wish to free audio artists from being stuck with uploading audio transcripts that took hours to transcribe and edit.
With Jupitrr, you have the option to either upload an audio file or directly record a brand-new voice recording through Jupitrr. A preview of the audiogram is then generated with a wide range of customizable options.
---
What are you waiting for? ⏳
Hundreds of audio creators are already using Jupitrr to add waveforms to their audio. Don't miss out and try it out today!
Try it out now !
Wondering how to create what's the best way to create audiograms?  
Check out our guide on audiograms.